What cycling, rowing and DJing has to do with Porsche
Hint: performance. It's part of an intimate branded content play from the automaker.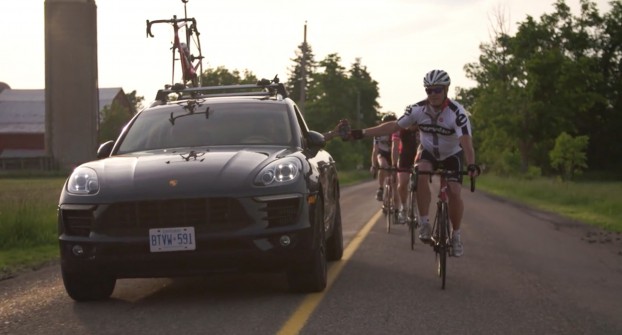 Porsche is making its debut in the fast-growing compact luxury crossover SUV category with a branded content series it hopes will help create "more of an intimate dialogue" with its target market.

While Porsche Cars Canada's director of network development, John Capella, says his company is not looking to dominate the market with the newly released Macan, it does want to be known as the "sports car" in the category and appeal to consumers who covet performance vehicles.

So it's working with agency Yield Branding on a four-part online series to live on the Macan global microsite. But the luxury automaker's effort makes little mention of the Macan in the first three films, instead putting the focus on co-founder of bike maker Cervélo Phil White, DJ Misstress Barbara and Rowing Canada coach John Keogh – people who should appeal to the sub-section of the category Porsche is after – people with active lifestyles who are young at heart.

"We looked at different active lifestyle elements and bicycling, music and sports are things that come up in a lot of our research," says Capella. "Our customers tend to be enthusiasts and we want to build content that appeals to them."

So far, two of the four videos have aired and been viewed a combined 40,000 times. The final video will bring the three featured people together to drive the Macan on a racetrack.

"For this particular part of the campaign, we did want it to live on its own," Capella says. "We want this as branded content that's interesting for people and we really want to see how far it will go as pure entertainment."

Capella says the brand would have to wait until the four videos have been released to judge the campaign results, but the vehicle has been selling "extremely well" in the two months it has been available.

A total of 191 units of the SUV were sold in July, raising total sales for the brand's vehicles to 570 compared with 329 last year. In June, total sales were at 576 units compared to 336 the previous year, growth of 66%.

Capella credits the expanded model lineup, along with heightened marketing efforts – including the videos and an increased presence at auto shows – as helping to move the needle on sales for the brand.

He says the company puts an emphasis on event marketing as an opportunity to put people behind the wheel of a Porsche. It's launching a performance tour in Vancouver this fall, supplementing a "Macan grand tour" that's wrapping up and an expanded Camp4 program that offers a three-day driving experience in Quebec.

In addition to the video, which lives on the brand's global hub, the push is being supported by in-cinema video, as well as in-flight videos, along with ads in trade and lifestyle magazines.

Porsche will be getting a new marketing director in September. With the departure of Laurance Yap, the marketing team will now be lead by Alexander Schildt, formerly senior manager, product planning, at Porsche Motors China. In addition, it is switching AORs later this year, with Red Urban taking over from Yield Branding.