Chasing the eight ball
We're talking about an award here. Take a peek into Leo Burnett's competitive quality-control process, where a billiard ball is the prize.
Thirty-odd creative heads sit in a boardroom, staring at projector screens on either side of the unlit space. Not a peep is heard from anyone in the room, aside from a moderator at the far end, as she bellows, "Scores, please," each time a commercial playing on the screen comes to an end. The heads look down, press a button on their remote keypad, some jot down notes and the process begins again, with each looking up to watch another spot.
We're not in Cannes, sitting in a dark dungeon of a room adjacent to a beach. The location of choice is Toronto, more specifically, at the Leo Burnett office at Yonge Street and Bloor Street. And while there is judging taking place, there's no big trophy to take home at the end of the week-long deliberations.
This is actually Leo Burnett's Global Product Committee (or GPC for short), and it takes place every quarter in a different city. Last week, it was Toronto's turn to play host. In 12 weeks, the Paris office of Leo Burnett will have a different set of creative heads from the agency congregate to review and assess thousands upon thousands of work produced over a three-month period for the agency's clients. Think of the process as Leo Burnett's version of quality control.
"It's primary focus is to put a laser-sharp focus on the quality of the product," explains Mark Tutssel, global chief creative officer at Leo Burnett, adding it gives the agency "a way of thinking and a way to evaluate the work through the same lens."
And it can do so because of the shop's proprietary "HumanKind Scale," which is essentially a rating method, from one to 10, that GPC participants use to score the work that gets looked at over the intensive five-day review.
Feedback on each and every single piece of work is recorded during the meetings and then sent back to the corresponding agency offices for them to assess, with the hope of helping them to improve and build on future work. "All ideas can be improved," says Tutssel. "There's no perfect execution, there's always something better out there."
A rating of one is given to work that is deemed "destructive" to the brand and even society, while a score of 10 is given to work that "changes the world." Though, a score of seven and above is a benchmark for good work that the agency strives for.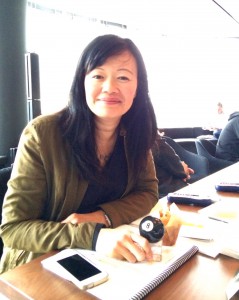 When a piece of work scores above the benchmark, a shiny, black eight ball (just like those used in a game of pool) is given to the creative head that represents the agency office. Only one of those balls sat proudly on the table in front of Toronto's Judy John on the third day of the committee review — for the Always "#LikeAGirl" spot, which was created across three Leo Burnett offices (Toronto, Chicago and London), with John leading the creative.

"That [ad] was just a social thunderclap, a sonic boom that's gone off in society today," says Tutssel, adding that the work was truly "creativity without borders," something the global agency is putting a finer focus on.

The Always spot wasn't the only Canadian piece of work that impressed the group and moved it to score high. During the discussion that took place after an Ikea Canada commercial and the TD "Automated Thanking Machine" online spot played on the screens, Kent Middleton, EVP and CD at the agency's Chicago office piped up, saying, "I just got struck by a sudden desire to work here."

"Toronto is a healthy agency that has ambition and is having fun," says Tutssel. He points to the agency's success at creating an "emotional adhesion, giving back to society, celebrating relationships and creating connections with people" in its work.

Admittedly, other agencies conduct their own internal reviews of work that's produced over a given period, but Tutssel believes Leo Burnett is the only one to do it so frequently and to rely on the process so strongly. It even invites individual clients, such as McDonald's, Samsung, P&G and Coca-Cola, to adopt the appraisal system, bringing them in to look at and evaluate the work they are creating in all corners of the world.

"When clients have access to the brain trust of a network agency, that can be quite unique," he adds. "[We can look at] one brand with a global idea, but with local accents, [and then] learn from each other…It forces you to look at what you do, what content you create [and what] can be improved."

"At the end of the day, it's not about an award show, this isn't about how many seven-plus ratings you have. It's about, 'How can we get better?'"