First and the furious: new sponsors step up for TIFF
Ford and Pepsi are among the brands going big for their first year as festival sponsors.
With two days until the red carpets roll out, sponsors are prepping activations for this year's Toronto International Film Festival.
With 33% of TIFF's operating budget coming from sponsor fees, activations are part of what keeps the festival alive. As it grows to levels of international predominance, that means finding new brands that want to be involved.
New sponsors at this year's festival include Pepsi, Ford, Jaeger -LeCoultre and Rdio.
In addition to a pop-up closet where festival-goers can pick up customized accessories, hit a photo booth and enter contests, clothing store Express is also sponsoring the festival's media lounge and running a Celebrity Selfie initiative. Every time a celebrity takes a selfie on their way into a press conference in the room, $1,000 will be donated to the TIFF Reel Comfort program, which benefits mental health and psychiatric patients at Toronto General Hospital and St. Michael's Hospital through film presentations and workshops.
Jaeger Le-Coultre is putting up clocks with its time-keeping technology at TIFF Bell Lightbox, as well as outfitting TIFF executives and actors that are part of the Rising Stars initiative with watches – some of which run for $15,000 – as they walk the red carpet.
Jackson-Triggs, the new official wine sponsor of TIFF, is also helping attendees look their best through a co-promotion with L'Oreal called Drink Red, Wear Red. At the opening night party, where Jackson-Triggs is being served, there will stations where attendees can re-apply the red lipstick that may have been lost to their glass.
"It solves a real problem, which is something that we love, but it's also great having two sponsors get together and do something bigger than they could do on their own," says Franca Miraglia, director of sponsorships for TIFF.
Also aiming to solve a problem with its activation is Ford. In addition to providing all the vehicles stars will be using to arrive on the red carpet the brand is bringing a real 50th anniversary Ford Mustang to the streets that passerby can drive through a virtual reality activation. The brand will also be giving real rides to regular folks, running "Catch a Ford," with the company's vehicles providing free transportation between TIFF venues.
"Some of our film fans book five to six screenings a day, so they have to do a fast dash sometimes," Miraglia says.
It's not all about movies. In addition to the pop-up performances happening during Festival Street, part of Pepsi's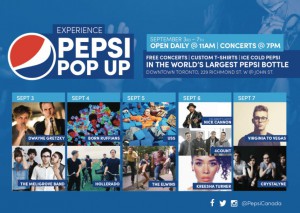 first year at TIFF as the official soft drink of the festival will be the bottle-shaped music venue at 299 Richmond St. West that will be hosting performances from Born Ruffians, The Meligrove Band, Hollerado and Dwayne Gretzky.
Rdio, in addition to running performances on the Steve and Rashmi Gupta Family Stage in the Rdio Music Zone, will be putting on a free concert by Ellie Goulding at Massey Hall on Sept. 6. The tickets will be given away at Rdio House – another place where audiences can relax and recharge – and through social media.
Check back with MiC tomorrow to read about how returning TIFF sponsors are keeping their activations fresh.
Image courtesy of ckchiu / Shutterstock.com