Curious about the future? Orange has the crystal ball
Go ahead, ask your (wrinkly) #FutureSelf anything using technology built by Jam3 for the telecom company.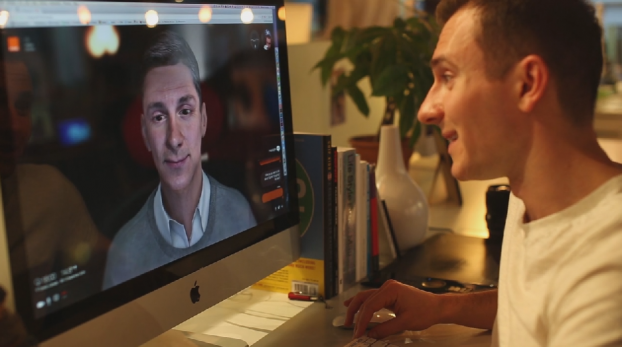 Robots will one day have emotions. Everyone will be able to record their dreams, and then watch them on a screen the next day. And get this, 20 years from now, we'll all be able to block and unblock ads that play inside our heads via digital contact lenses.

Don't believe us? Go ahead, ask your future self.

It's not a gag, there's now a way to "speak" to a 20-years-older you. For its 20th birthday, European telecom company Orange and agencies Publicis in Paris and Jam3 in Toronto developed a smart, intuitive-esque platform that allows anyone to ask their futures selves questions around love, technology, celebrities and even advertising.

"Birthdays often represent the opportunity to roll back the clock and evaluate the path taken," writes Cécile Lejeune, worldwide account director at Publicis Conseil in an email. "[However] Orange saw its birthday as an opportunity to look forward and imagine tomorrow's innovations in everyone's day-to-day life, which has been a part of the brand's DNA since 1994."

#FutureSelf essentially ages anyone by 20 years using facial recognition technology Faceshift, which is similar to what's used in big-budget film and videogames to make animated characters look more realistic. When a person arrives at the site, they are instructed to turn on their camera and mic or upload an image of themselves to the page.

That's when the magic begins, with the site's facial recognition technology locating the various points on a person's face (the eyes, chin, cheekbones, eyebrows, etc.) and then applying those features to a 3D model of an actor. The shape of the model face is changed, with the user's eyes matched to that of the model's, and aged 20 years. It then uses Google's Speech API to listen and respond to a user, much like Apple's Siri would.

"We didn't want it to have that whole South Park vibe," says Adrian Belina, partner and creative director at Jam3. His team spent a good amount of time making sure it didn't look like the cliché "hole in the face" where the lips are cut out and then move up and down like a puppet.

And Belina believes this was successfully pulled off because the client put aside budget for a discovery period, where the shop could explore different technologies and establish their limitations. "Not a lot of clients are doing [that] these days, especially with these very avant-garde, technical projects."

The project was not a small endeavour, by any means. Jam3 had half its developers working tirelessly on the platform for the majority of the summer — ever since Publicis approached the shop in late May, says Belina.

"We are known for doing very technically advanced projects that's a mix of creative technology, and achieve things that have never been done before," he says, when asked why the Paris-based shop chose the Toronto digital studio over two other potential agencies in London and Paris.

So far, in the two weeks the site has been open, more than 450,000 people have stopped by. And on average, they're spending five minutes on the platform. What's more, 25% of them are returning to listen to the more than 600 responses plugged into the system, from what the next big technological discovery will be to which hot celebs will dominate the media 20 years from now. We imagine the company isn't held accountable for incorrect lottery ticket numbers.