Throwback Thursday: strategy in 2011
In '11, Swiss Chalet had its own TV channel, Vonk and Kestin went swimming and we obsessed about location-based marketing.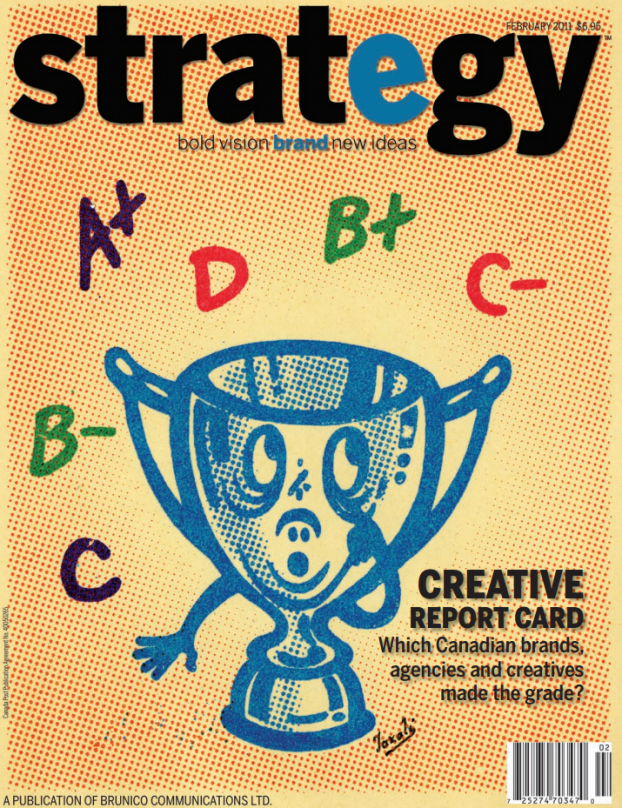 For strategy's 25th anniversary, we're travelling back in time, flipping through the pages of old issues to highlight some big news you may have forgotten, trends you wish you'd had a crystal ball to predict and marketing issues that never seem to change. Check back next Thursday to pick up some valuable insights into Canadian marketing history. This week, we tackle 2011.

Hot topics
It's still all about location, location, location, Feb. 2011
The name of the game in early '11 was location-based mobile services. It came with the promise of consumer loyalty, hyper-targeting and the ability to integrate with other media.
"Location almost provides the Holy Grail that's been missing – by understanding where somebody is, we now have the complete picture," said Asif Khan, founder of the Location Based Marketing Association (LBMA). It was a time when Foursquare, Gowalla, Loopt, MyTown and Facebook Places were starting to show their cards, and as a result of the influx, marketers were trying to figure out how to tie the location-based apps to retail environments.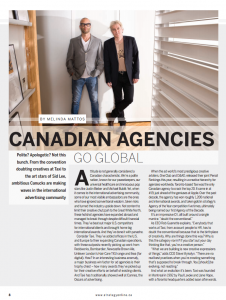 Canadian agencies go global, June 2011
"Not content to limit their creative chutzpah to the Great White North, these hotshot agencies have expanded abroad and managed to break through despite difficult financial times."
For our Cannes special edition, we wrote about agencies like Taxi, Sid Lee and Juniper Park, not just expanding out of town, but also how they're bringing international business (and awards) to town.
Here's to new beginnings
Sobeys takes a fresh approach, March 2011
FreshCo made its debut this year, with the new format "positioned around value rather than price, aiming to provide Ontarians with an experience that's the antithesis of Price Chopper."
"It defies discount banner conventions, featuring a bright, clean, modern look – from signage to staff uniforms – plus a focus on fresh local fare, a broad ethnic offering and more choice. Pulling no punches, its tagline, "Fresher. Cheaper," indicates it's still a discount grocer."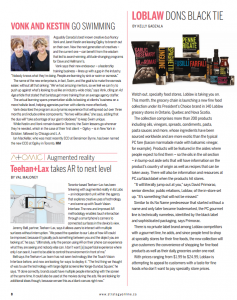 When Telus met Bixi, July/August 2011
"Bike lovers in Toronto and Ottawa who don't have wheels of their own can now grab a ride on a Bixi bike. The pay-as-you-ride program is all over the cities, and you won't see a Bixi station without some Telus signage." Arriving to much fanfare, Bixi Toronto (recently rebranded as Bike Share) has travelled a rocky road ever since, having filed for bankruptcy protection in early 2014. Bixi Montreal, however, is still going strong.
Vonk and Kestin go swimming, October 2011
"Ogilvy's award-winning co-chief creative officers and arguably Canada's best known creative duo Nancy Vonk and Janet Kestin are leaving the nest and starting their own business," we wrote about their consultancy called Swim. "It's not a new agency, it's not named Jancy and their first client is…Ogilvy."
Dead smart creative ideas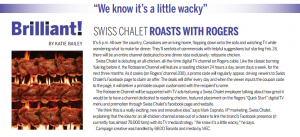 Swiss Chalet roasts with Rogers, March 2011
We first broke the story when the restaurant did the deliciously unthinkable. It debuted "an all-chicken, all-the-time digital TV channel on Rogers cable." The channel showed rotisserie chickens cooking and occasionally a promo code that drove viewers to Swiss Chalet's Facebook page to claim an offer. The tasty campaign later went on to win a Silver Media Lion in Cannes.
Loblaw reinvents reality TV, November 2011
"If you're wondering where all the foodies are this fall, you might want to check the couch," we wrote at the time of the grocer's debut on TV. "From cupcakes to screaming chefs, food-related TV has never been hotter, and Loblaw is upping the integration ante with the latest show to hit the Food Network, Recipe to Riches."
The more things change…
Why so proud, Canada?, June 2011
Canadian brands had a thing for Canada in 2011. We know what you're thinking: what else is new? Over the years, marketers have tapped into the power of national pride in their advertising, but during the early part of this year, patriotism in marketing was at its highest. Reasons for the love? We wrote back then that competitors from the U.S. (such as Target), the unifying effect of being at war, being host to the Olympics and emerging from the recession somewhat unscathed were likely factors in creating a "perfect storm for Canadian pride."
Creative Report Card
Want more strategy Throwback? Catch up on the headlines from 1989, 1990, 1991, 1992, 1993, 1994, 1995, 1996, 1997, 1998, 1999, 2000, 2001, 2002, 2003, 2004, 2005, 2006, 2007,  2008, 2009 and 2010.