BioSteel goes mass
New spokesperson Connor McDavid helps the "pink juice" connect with health-minded athletes for its first TV spot.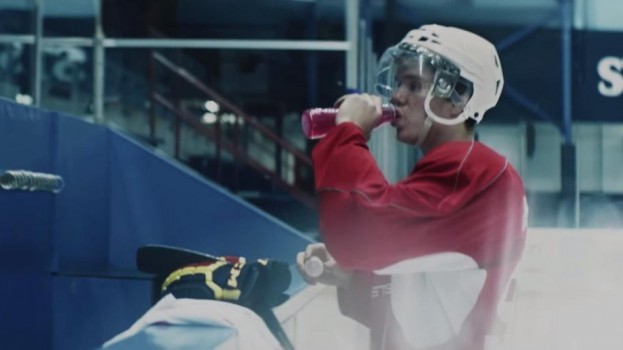 Moving into competition with the heavy hitters of the sports drink world with its first ready-to-drink product, BioSteel is putting its focus on athletes and the elite performance they need for its first mass television spot.
The ad features new spokesperson and hockey phenom Connor McDavid training on the ice, in the locker room and in the gym as his voiceover explains the work he needs to put in to fulfill his professional hockey dreams. The spot ends on the "#DrinkThePink" tagline, based on the "pink juice" nickname BioSteel picked up as it was used by athletes over the years.
BioSteel's previous, powder-based supplement product was promoted primarily through point-of-sale materials, as well as through social media and with its spokespeople, which include NHL goalie Carey Price and NFL player Dez Bryant.
Now that BioSteel has a ready-to-drink version that will be available on the mass market next to other sports drinks, the McDavid video will run in Ontario on Leafs TV and NBA TV before moving to a national platform on TSN and Sportsnet next month in what BioSteel co-found John Celenza says is the company's first mass campaign.
BioSteel's first product catered to the fitness-focused, with no traditional, mass-scale promotion even as it hit shelves at Loblaws and Sport Chek in 2012. Today, Celenza says he has seen the focus on health come around to the world of sports drinks, so the time was right to hit the market with an alternative that wasn't as high in sugar as some of the other sports drinks.
McDavid, who currently plays for the Erie Otters of the OHL, is expected to be the top draft pick in the 2015 NHL Entry Draft. Along with Andrew Wiggins, the Toronto native who was the first pick in the 2014 NBA Draft and the subject of a video spot earlier this year, BioSteel's athletes have been stars-of-tomorrow types that not only connect with younger audiences, but have been using the product since before they hit the spotlight.
"It goes back to keeping in touch with education and the youth movement so we can cater to tomorrow's purchasers," Celenza says. "We look for authentic relationships and these kids have been drinking the product since they were 14 years old. To buy a big athlete to get them to use BioSteel, from a marketing standpoint, they aren't as believable."
BioSteel handled the campaign and buying internally, working directly with production company Sons & Daughters on creating the spot. Celenza says the company is no longer a part of the incubator program created by Y&R where the agency would handle all of BioSteel's marketing and planning, but adds that he still approaches Y&R for feedback.