Who made the 2015 CASSIES shortlist?
Check out which brands and agencies will compete for the effectiveness Gold, Silver and Bronze prizes in February.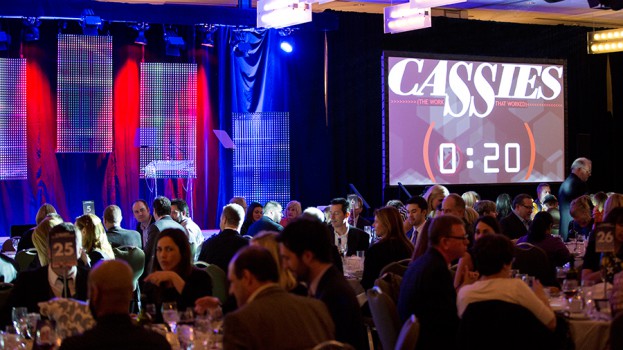 A total of 60 awards will be handed out to 53 cases at the 2015 CASSIES but who will be going home with Gold is yet to be seen as the shortlist was revealed today.
Presented by the ICA, AAPQ and APCM, the awards focus on proven business success from advertising or communications work in case studies published in the last year.
The 14-person judging panel decided which cases on the shortlist will be awarded Gold, Silver and Bronze distinctions in 16 categories, including new ones like Best Multicultural Campaign and Long-Term Success. Tickets to the gala on Feb. 19 at the Hilton Toronto are available now.
Check out the full shortlist below:
| | | |
| --- | --- | --- |
| CASE NAME | AGENCY | CLIENT |
| "We've Got A Wine For That" | Bensimon Byrne | Constellation Brands Canada |
| Scotiabank Scene | Bensimon Byrne | Scotiabank |
| "Team Photo Project"  | Cleansheet Communications | Canadian Tire |
| La Presse+ Launch | Cossette | La Presse Limitée |
| "290 Calorie Egg McMuffin" | Cossette  | McDonalds |
| "BMW M" | Cundari | BMW |
| Tobacco Cessation – "Keep Trying" | DDB  | Alberta Health Services |
| "Forester Family Rally" | DDB  | Subaru Canada  |
| "One Hero" | DDB  | Canadian Blood Services |
| "Sunglasses" | DDB  | Vancouver Police Foundation |
| "Milk Every Moment" | DDB  | Strategic Milk Alliance |
| "Understanding "Campaign | DentsuBos  | CAMH |
| "This is my time" | DS+P | York University |
| "Oreo Olympics" | FCB Toronto | Mondelez |
| "Skip Starbucks Saturday" | Grey | Moms Demand Action for Gun Sense in America |
| "Kettle – Tipping Point" | Grey | The Salvation Army |
| "Shreddies Genuine "Goodness | Grey | Post Foods Canada Inc |
| Taco Bell "Eat Your Words" | Grip  | Yum! |
| "Honda's Spring Retail Sale Event"  | Grip  | Honda Canada |
| "Civic Nation" | Grip  | Honda |
| "Change Your Life with Bacon" | John St.  | Maple Leaf Foods |
| "Throwaway Thursday" | John St. | Ivanhoé Cambridge |
| "It's That Simple" | John St.  | Tangerine |
| "Together We Will" | JWT Canada | Sick Kids |
| "House Rules" | Leo Burnett | Ikea Canada |
| Mr. Clean – "Legendary" Campaign | Leo Burnett | Procter & Gamble |
| "RESL" 2013 Campaign | Leo Burnett | TD Bank |
| Ikea's 2014 Catalogue | Leo Burnett | Ikea Canada |
| Ikea's "Quick & Easy Room Makeover" | Leo Burnett | Ikea Canada |
| OKA: Quebec's original treasure, since 1863 | Lg2 | Agropur |
| "32 cuts. 32 emotions." | Lg2 | Les Éleveurs de porc du Québec |
| "Two Year" | Lowe Roche Advertising | Groupe Media TFO |
| "The Fonds RRSP: 30% more" | Marketel | Fonds de Solidarité FTQ |
| "Trailblazer" | McKim Communications Group | University of Manitoba |
| Hellmann's Real Food Movement | Ogilvy & Mather | Unilever |
| Cloud 10 – Revitalizing the Airport as an acquisition channel | Ogilvy & Mather | American Express Canada |
| "Coming Home" | Ogilvy & Mather | Heart & Stroke Foundation of Canada |
| "Countdown" | Palm + Havas | Volkswagen Canada |
| "Who'da thought" | Palm + Havas | Volkswagen Canada |
| "Watch_Dogs Live" | Publicis Montreal | Ubisoft |
| Molson Canadian | Rethink | Molson Coors |
| Toronto Raptors "We The North" | Sid Lee | Maple Leaf Sports & Entertainment |
| "Where No Wine Has Gone Before" | Sid Lee | Sélections Chartier  |
| "The morning after" | Tank | Workopolis |
| "Ice Truck" | Taxi | Canadian Tire |
| "Here To Make You Happy" | Taxi | Boston Pizza International |
| "The Little Brand That Could" | Taxi | Koodo Mobile |
| "Building brand love in an unexpected place." | Taxi | Koodo Mobile |
| Boston Pizza Ribs | Taxi | Boston Pizza |
| "Guilty Pleasure" | Taxi  | Kraft Canada |
| "Winter Warrior" | TBWA\Toronto | Nissan |
| "The Canadian Way"  | Tribal Worldwide – Toronto | Canadian Tire |
| "Christmas Miracle" | Studio M/Mosaic | WestJet |