L'Oreal amps up the take-home experience
With its Google Glass pilot program and new AR app, the beauty co redefines face time with a makeup pro.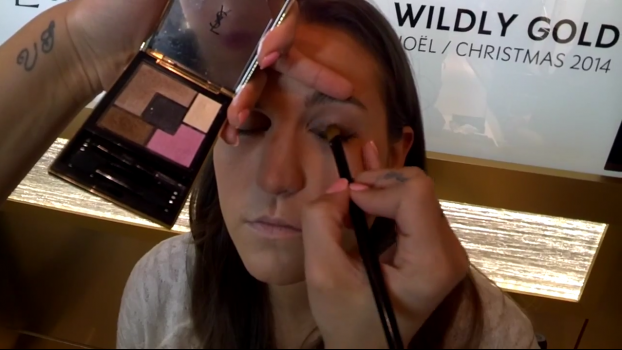 L'Oréal is sending consumers home with a professional makeup artist – well virtually, anyway.

The cosmetic co's focus on tech is redefining what it means to spend face time with the pros, as it unveils two new initiatives that give consumers a personalized experience at home. Yves Saint Laurent Beauté has rolled out a pilot program with Hudson's Bay which taps into the unique vantage point offered by Google Glass. Consumers in Toronto and Montreal can have their makeup applied by an artist sporting the tech, which records a video of the tutorial that consumers can refer back to at home through an email or USB key, in addition to a list of the products used to create the look.

The global initiative kicked off in Canada at YSL counters at two Hudson's Bay locations in Toronto this past weekend, and heads to Montreal next weekend. (This writer got to demo the service too – check out the video tutorial from the makeup artist's point of view below.)

Whether the program leads to a more extensive rollout is still in the works, and will depend on consumer response, says Stéphane Bérubé, CMO, L'Oréal. The brand hopes to bring new consumers to YSL counters and elevate its service for existing consumers– a key part of the luxury brand's offering, he says, as customers purchase not just the product, but the brand experience. And this particular experience is one-of-a-kind, he says, noting being first to market is a key strategy for L'Oréal.

This is not L'Oréal's first foray with Glass – Maybelline tried out the tech during World MasterCard Fashion Week in Toronto, with its lead makeup artist wearing the tech to create YouTube tutorials. Meanwhile, a focus on tech (whether it's wearable or finding scientific solutions to skin care issues) has been on beauty brand's radar, with Bérubé accelerating the process since stepping into the role in May.

This week, Canada becomes one of the pilot countries where L'Oréal rolls out its Makeup Genius app for iOS and Android (it's already available in the U.S., U.K, France and China). Using augmented reality, the tech scans a user's face, assessing 64 facial points, makes personalized product recommendations and enables consumers to virtually try out different looks. An e-retail component is slated to launch next year.

Bérubé sees augmented reality as a trend to look out for in the beauty category – providing ways to demo products, customization and coaching. And though wearable tech, virtual reality, beacons and retail innovation are all areas of interest for L'Oréal – Bérubé points out the brand won't do tech just for the sake of it – it needs to tie into consumer needs and insights.