What's so special about Swiss Chalet?
A look at how the iconic restaurant chain's new creative platform aims to build upon its own unique culture.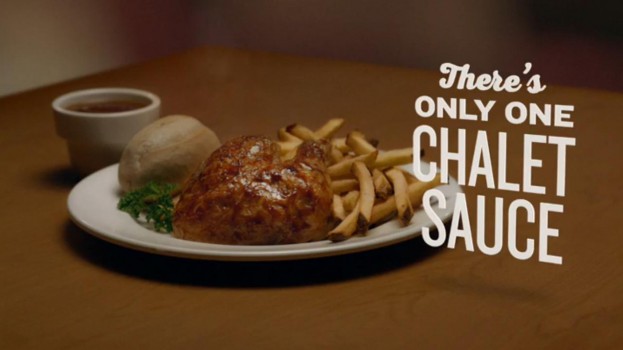 Swiss Chalet hopes long-time customers and new visitors alike will want to be a part of the restaurant's one-of-a-kind experiences that are being highlighted in a new creative platform.
The new "Nothing Else is Swiss" platform launched this week with three spots airing on TV and pre-roll online. The new commercials tap into the things that loyal Swiss Chalet customers know and love, be it through the unique ways diners use their Chalet Sauce, how they "over-order" for their families to cash in on leftovers, or the methods that go into making the restaurant's signature rotisserie chicken. The spots and platform were developed by 123W, with media buying by Vancouver-based Genuine Retail Media.
The three spots are the first in a planned six to eight the agency will produce annually, including some for a new product launch that will come before the end of the year.
The agency won Swiss Chalet's television and radio business in the fall after some successful work for the chain in the summer. Aside from a holiday spot, the agency has mostly been working on developing the new creative platform for the restaurant, which Rob Sweetman, co-founder and CD at 123W, says looks to utilize its "untapped" pre-existing brand affinity.
"In the past, they only really focused on the food and showcasing the product. But something that kept coming up in our research online was seeing people that have grown up with the brand defend it to the death and have all these stories that haven't been told before," says Sweetman. "We kept comparing it to other brands across Canada, and no one, except maybe Tims and Canadian Tire, really comes close in terms of that iconic status."
Bryan Collins, co-founder and CD at 123W, adds: "Swiss Chalet is different for so many people, be it [what] they order or the ways they eat it, but they all love it equally. It's a really interesting product in that sense, because it's the same food but very personalized for each person."
However, with such a culture built around the brand, Sweetman says the challenge in developing the platform was making sure the stories presented didn't make it seem too exclusive to those who might not have grown up with it.
"There was a fine line we tried to walk, and we presented a few ideas that were a bit far down that path," he says. "They used this special language, like Tim Hortons' 'double-double,' but that would have excluded some of the viewing audience that wouldn't have known what we were talking about. What we ended up with showcases that this is a brand people have genuine passion for, and others will want to be a part of."