Smoking (still) stinks
The Canadian Cancer Society peels back the fruity curtain on flavoured tobacco.
For National Non-Smoking Week, the Canadian Cancer Society is hoping that if the delightful flavours being added to tobacco products are making you forget about its dangers, that grossing you out a bit will remind you.
In a new PSA, surgeons in an operating room suddenly stop to appreciate the fact that the cancerous tumor they are operating on has a pleasant, strawberry smell to it. The campaign, developed with Rethink, also features a series of print ads, where seemingly normal-looking organs are presented with fruity-looking growths on them, under a tagline stating the wide range of flavours cancer is now available in.
"I think the Canadian Cancer society is typically quite conservative, but we wanted to make people a little bit uncomfortable so it has some stopping power and they take notice," says Lisa Hurlbutt, director of marketing and communications at Canadian Cancer Society. "Nick [Quintal, managing partner at Rethink] kept saying, 'what's your gross factor?' so he had to push us a little, but that's a direction we wanted to go."
In surveys done by the Society in 2013 and 2014, teens and young adults who start off smoking flavoured tobacco are highly likely to move on to "regular" cigarettes, with over half saying they have tried it. Hurlbutt says the idea behind the campaign is not only to show that flavoured tobacco can have the same deadly results as the regular kind, but to tie in to its increased efforts around prevention.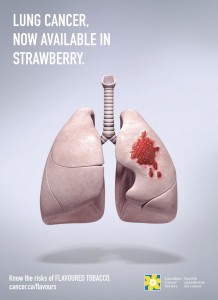 "You'll see more of a prevention strategy coming out of our national and regional offices," she says. "It's a very big focus for us right now because even though the rates have come down, it's still the number one killer in the cancer world. It's so preventable, but the kids and teens aren't going to hear any of that if they're being presented with these deceptive products."
Hurlbutt adds that in addition to flavoured tobacco, e-cigarettes will also be a likely subject in its campaigns within the coming months.
The "Now Available" campaign comes out of the Canadian Cancer Society's B.C. branch and will primarily be running there on traditional media. However, Hurlbutt says that while the Society's efforts tend to be very regionalized and the national office has its own advocacy efforts this week, this campaign was developed specifically so that it could be used nationally, with other provinces using it in grassroots efforts and social media.
"We were very clear with Rethink that we should make this so it had no borders to it, that it didn't drive to any B.C.-specific resources," she says. "Other provinces have been able to use it in their awareness and advocacy efforts, which is a win for us because we're trying to do more as a country on this issue."
Hurlbutt explains that while a law banning flavoured additives in cigarettes weighing under 1.4 ounces was passed in 2010, tobacco companies have been able to get around it, primarily by offering products in different weights. She says that while the Society's provincial branches have been petitioning their local governments, and that she has faith it's an issue that will be resolved eventually, it may go a bit faster with more pressure at a national level.