YouTube taps the big game to promote its stars
How the Google-owned network is using Super Bowl spots as bait to reel in fans for its own half-time show.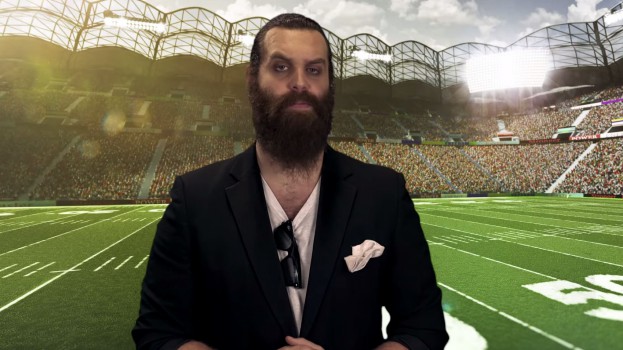 Due to logistical issues, Professor Splash's planned 30-foot dive into a shallow pool of nacho cheese will not be happening during YouTube's Halftime Show.

But the event – which will be live streamed on the AdBlitz 2015 channel from YouTube Space LA on Sunday during Super Bowl XLIX – still promises a satisfying serving of cultural junk food, with several attempts to break world records and a cast of top YouTube stars, including Canada's own Harley Morenstein, performing in comedic, kitschy production numbers.

For industry observers, however, the most amazing feat might just be what will be happening in living rooms across America.

"We're going to have the YouTube generation there with their phones, tablets and laptops, watching side by side with people watching the traditional halftime show," says Dan Rosner, SVP of marketing for YouTube rights management and marketing specialists Zefr. "And we're going to see a lot of people exposed to these YouTube celebrities who may otherwise not have known about them."

YouTube is doing its best to expose football fans to its stars before game day. The Super Bowl ads are collected on its AdBlitz 2015 channel. At the top of the page, viewers are greeted with a video of Morenstein playing an advertising executive who has watched every Super Bowl commercial ever filmed and created Harley's Playbook, containing 21 rules every successful Super Bowl ad must follow (e.g. "Rule #17: babies are adorable selling machines"). Viewers can then scroll through a series of spoof ads illustrating those rules by Freddie Wong, Mars Rising, Bad Weather Films and Matthias. At the end of those ads, viewers are then invited to tune into the halftime show live stream and vote for their favorite actual Super Bowl ad, beginning Sunday.

Using Super Bowl commercials as bait to reel in new fans for its stars looks like a sound strategy for YouTube. Last year, viewers watched more than 6.3 million hours' worth of Super Bowl spots on YouTube, according to the company. As of Monday, 70 million minutes of this year's Super Bowl ads or teasers, pimping everything Mercedes-Benz to Mexican avocados, had already been watched on the platform, up 55% from the same time last year. And more football fans should be flocking to the platform now that the NFL has its own YouTube channel, launched earlier this week.

But it's unlikely the average viewer will forego Katy Perry's official Super Bowl halftime performance to tune into YouTube's live stream as a first-screen experience.

"This is not a multi-million dollar production. This is a very YouTube-centric idea," says Gary Binkow, co-founder and chief creative officer of Collective Digital Studio (CDS), which is producing YouTube's halftime show. But "it should make you squirm in your seat and, hopefully, laugh a little bit."

Unlike the NFL's halftime show – which is meticulously planned and rehearsed with split-second timing and military precision – YouTube's relatively low-rent spectacle has the potential for spur-of-the-moment antics and perhaps even an epic fail or two.

"I think one of the most important things about YouTube is that it's always been more raw than television," observes Morenstein, who is rehearsing two days for the show (three, if you count game day prep). "We're not like pop megastars. We have fun. I guarantee that we'll have fun doing it, and I guarantee that everyone watching will have fun because of that."

Will the fun involve Morenstein performing a stunt or two?

"Maybe I sing," says the 6'6″ Canadian native. "That's kind of like a stunt a little bit."

From StreamDaily.