Smarties gets personal on Instagram
The brand has launched its presence on the social platform, introducing itself to fans in an artsy way.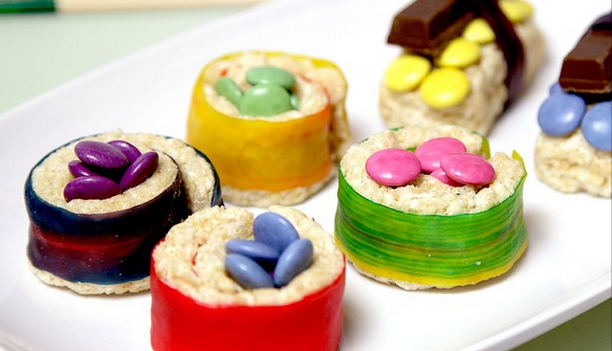 When you eat your Smarties, how do you do it? Seriously, they want to know.
Smarties has launched its Canadian presence on Instagram and planted the seeds for its #HowDoYouSmarties? campaign by literally saying hello to potential fans on the site in a playful way and asking them to share how they have fun with their snack.
The Instagram campaign, led by Toronto agency One Method, targets millennials – women and moms in particular, where the brand sees the most engagement – with its message around being imaginative with the snack.
The agency looked at the target audience and its current age, then went back and researched which names were particularly popular around the time of their birth, choosing nine. It then found Instagram users with those names, and tagged them in posts with typographic Smarties messages like "What's Shakin' Megan?" Focusing on nine names allowed the brand to launch its Instagram account with nine distinct, creative pictures to fill up a mobile screen.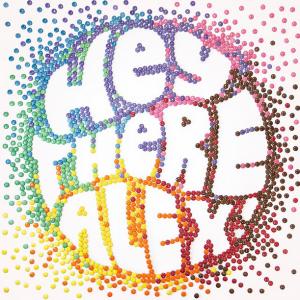 "We wanted to find people who were really part of our consumer base and share the same sort of philosophy and personality of Smarties, which is fun and lighthearted," says Steve Miller, VP and creative director at One Method. The agency also reached out to influencers, tagging singer Michael Bublé, who replied with "I eat the red ones last."
It was a perfect response, Miller says, because the latest campaign builds off the popularity and resonance of the "Do you eat the red ones last?" tagline from years back. "It's the one campaign and the one Smarties piece of equity that really sticks with everybody," he says.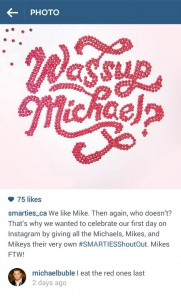 Both the brand and the agency shared a gut feeling that people tend to play with their Smarties more than other confectionery treats, and consumer research and focus groups confirmed that, he says.

Because of its visual nature and popularity with the target demographic, Instagram was the clear choice for the beginning of the campaign, Miller says. However, it was more challenging than other social platforms because it doesn't have the same media opportunities as sites like Twitter and Facebook, which is why introducing the brand in a unique way was so important.

In the two weeks the brand has been present on Instagram, it's gained nearly 300 followers.

Since then, One Method has also been creating more Smarties art to inspire users, and is sharing fans' Smarties pictures on the brand's Instagram and Facebook pages, signed with their names in the treat's well-known font.

The larger "#HowDoYouSmarties?" campaign will launch in April and will include a TV spot created by JWT and in-store POS materials from One Method, along with more digital components led by the agency.