BMO makes business personal
The bank spotlights what its employees bring to its human-focused brand refresh in a new video.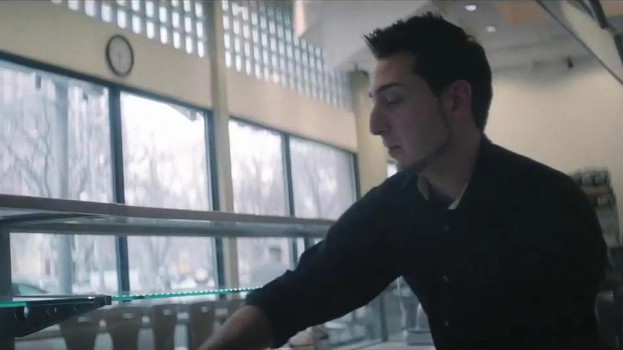 BMO is adding to its recent brand refresh to show that bringing a human touch to its customers sometimes means looking beyond financial needs.

A new video features Arash, a deli owner in Toronto who has never had a day off since he opened the shop. His shop was financially secure, so that day off was what he needed most, especially after receiving doctor's orders to do so after an injury. In response to this, employees at Arash's BMO branch came in and took over running the deli for a day.

The video will be airing online and pushed through social, as will a shorter video of Arash's reaction and a behind-the-scenes video featuring the BMO branch manager that made the event happen. Mosaic was the agency on the campaign.

Last year, BMO undertook a brand refresh that aimed to make banking more personal and less transactional. While that was launched with a large-scale masterbrand campaign, the new video is intended to spotlight one of the specific things that makes banking with BMO more human: its employees.

"The basic idea is recognizing what's special about us, which is bringing that human touch to banking, and recognizing that we are people first and bankers second," says Joanna Rotenberg, CMO and head of strategy at BMO Financial Group. "Our customers also always tell us that the point of difference for them is our employees. This video gives us the ability to show the difference our employees can make."

While Rotenberg says this particular video shows what the bank can offer its small business customers, the strategy behind it is less about expanding the platform to a business-focused customer and more about showing the versatility behind the brand promise and how it is applicable to any need that may arise.

"We've always been one of the leaders in small business, so strategically nothing has changed," she says. "Part of this branding is recognizing there is no playbook for the needs that come up in life and seeing that people's personal and business lives can be very interconnected. He happened to be a small business owner, but this could have [shown] many different angles. It shows that the relationship goes beyond a regular transaction."

Rotenberg says the video is part of the bank's effort to test out different ways to bring its brand promise to action and will be looking closely at the results and learnings for ways to bring other new elements into the broader program.