Check it out: A feline film frenzy
Temptations' Just for Cats Festival celebrates the best in viral cat videos.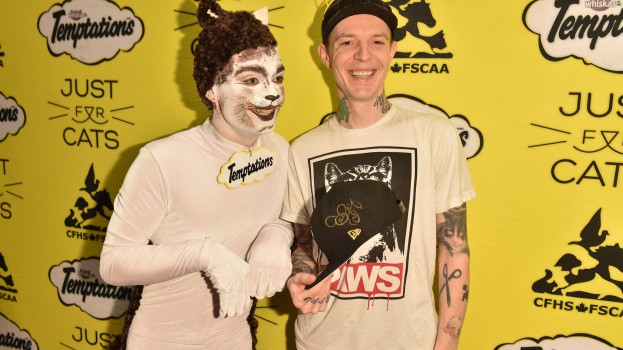 Press pause on that cat video you're watching for a second.

For the second year in a row, cat treat maker Temptations is sponsoring the Just for Cats film festival, a national event showcasing the best in internet cat videos from the past year. The festival will take place across about 30 different Canadian cities this summer, all screening the 60-minute reel of cat videos, curated by the Walker Art Center in Minnesota (which began its own cat video festival in 2012).

The event, which kicked off with a red carpet event in Toronto last week. is a fundraiser for the Canadian Federation of Humane Societies and is aimed at increasing the value of cats in people's minds by encouraging people to spay and neutral their feline friends, tag them properly and get proper veterinary care.

This year, Temptations partnered with Universal Music to bring electronic artist Deadmau5 (a.k.a. Joel Zimmerman) on board for a red carpet appearance at the TIFF Bell Lightbox. Deadmau5 is a noted cat fan, with his two pets – Professor Meowingtons Phd and Miss Nyan Cat – adopted from the Toronto Humane Society.

"It was all about finding someone who had a genuine connection with a cat," says Christine Cruz-Clarke, senior brand manager for pet care at Mars. "Temptations is a brand that's all about the fun and celebration of cat ownership," she says. "Since last year, we've really put a big focus around the fun aspect of [the festival]."

Working with agencies Fleishman Hillard, Match Marketing and MediaCom the brand also partnered with about 50 other social media influencers on the festival kickoff, along with doing promotional appearances on TV breakfast shows and lifestyle programs in the lead-up to the Toronto event. It has also been doing paid social media, mainly on Facebook, to promote the festival.

In 2014, the CFHS had 18 festivals and more than $60,000 was raised for cat welfare in Canada. Those numbers are expected to rise higher this year because of the partnership with Deadmau5 and a more aggressive influencer strategy.

Pictured: Tempty the photobombing "cat" and Deadmau5 on the TIFF Bell Lightbox Just For Cats red carpet.