Via Rail is allowing its passengers to tell Canada why they prefer to take the train in "Who's on Board," a national campaign that looks to reflect the company's new strategic direction to the public.
In a series of 15-second videos, Via is allowing its regular passengers to give their own reasons for using the train, be it to go see their family, to get away from their family, or get to their job as a clown.
The campaign also includes out-of-home, radio spots, digital ads, social media and more robust CRM marketing through email. On-site activations at events and on-train are currently being planned for the rest of the year, as is a TV buy for the fall. Cossette is handling all creative on the campaign with a media buy by Touche! and digital support from Tink.
Being more consumer-centric in its marketing is a reflection of a new strategic direction Via undertook last year around the same time Martin Landry joined the company as chief commercial officer in May. Looking at where the company needed to be in five years, Via talked to its employees to figure out what its options were. One of the core things it found was that its services, in some way or another, touch the lives of Canadians, and Via now filters all of its decisions and new offerings through how it will affect the lives of its passengers.
"It's a shift in an industry that's traditionally been very strong in operations and filled with very smart engineers that run those operations," Landry says. "But for us, in the end, that only matters if it brings value to the end customer."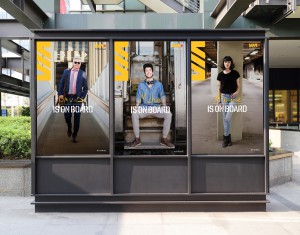 That has meant investment in all elements of the travel experience. To date, that's included renovations to business-class cars and improvements to its on-train food and entertainment offerings. Renovations to economy class will begin soon, the different customer service touchpoints will be consolidated into a single centre to better serve travellers and Via's reservation system will be overhauled to allow it to offer travel bundles beginning next year. Via is also releasing its first mobile app with a soft launch next month and a broader launch in the fall.
"That was the hard stuff," Landry says. "We needed to get that right first before we move to what's more important, letting Canadians tell other Canadians why those things make them want to take the train."
Sylvie Charette, director of marketing communications for Via Rail, says the brand is well-loved among those that already use it, and the challenge for getting new travellers was building familiarity. Insights from other rail providers showed one of the biggest barriers to attracting new customers was a lack of familiarity with how the system worked.
"One of our objectives was to 'de-mystify' the train," she says. "There's nothing better for that than travellers talking about their experience themselves, and doing it through video and social amplifies the voice of the people themselves, instead of having it come from us."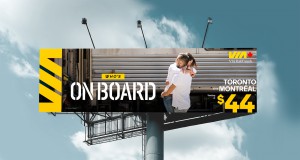 Landry says the campaign reflects "end-to-end journey management," providing a positive experience from the moment a customer first considers travelling to the moment they step off the train. In addition to marketing, that means retaining the things existing customers already like about the brand experience, namely the simplicity of booking a trip, as it rolls out things like its new app and booking system.
"Very few of our travellers are on the train because they want to be there, they are there because they need to travel," he says. "So what we're trying to capture is those reasons for travel. The steel rails we run on is our business and not relevant for our travellers. They care about the experience they're going to get on board and the reasons that put them there."
The target for this campaign is purposefully broad, as the company has identified growth opportunities in areas like people simply looking to avoid regular city traffic or the aging population looking to travel more. One of the key demos, though, is young people.
"In the past, I remember kids were rushing to get their drivers licences because that was the way they could connect with friends," Landry says. "Today, they can do that electronically, so far fewer of them are getting their licences right away. We're trying to get them, from a habit perspective, to use their national rail provider for travel needs, and show them the culture of taking the train and embedding it early on."