AToMiC Awards: Getting in on the action
Brands are upping the ante on immersive experiences, putting consumers in the driver's seat and bringing their brands to life.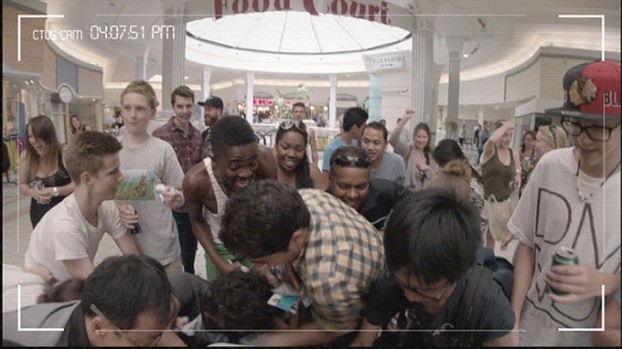 This story appears in the June 2015 issue of strategy.
Every brand wants to get its product in front of consumers (no surprise there). But a few savvy brands are challenging the status quo when it comes to drumming up interest, creating highly immersive experiences for consumers by bringing their offerings to life.
For the average person, their exposure to hacking is typically within the entertainment world – be it in film or a videogame.
But Ubisoft and Publicis helped the act of hacking transcend the boundaries of fantasy and reality by creating an experience with real-world implications.
The brand announced its new game, Watch_Dogs, in 2013, but it wasn't being released until a year later. To make sure gamers didn't forget about it while they wait, Ubisoft created a game that used phones as weapons.
Consumers became virtual hackers via the "Watch_Dogs Live" app, which enabled them to hack into nearby targets such as ATMs, hospitals, nightclubs and (ironically) police stations.
Hacking paid off in data, money and skills, which helped them climb the leaderboard. To defend their high position against other players, they had to complete daily tasks. And they were rewarded for playing with weekly challenges and prizes, plus in-game incentives.
But the initiative really broke into the real world with its cooperative hacking missions, which resulted in a car being blown up, an ATM releasing money to unsuspecting shoppers, players breaking into a secure cargo container to steal what was inside, as well as gaining control over a sports talk show during a live broadcast.
App downloads hit 200,000, exceeding the goal twice-over, and saw an 80% engagement rate, with 8.7 million hacks in total. "Watch_Dogs Live" also became one of the Apple App Store's top five games. Moreover, the initiative garnered 10.5 million unpaid media impressions and 500,000 YouTube views.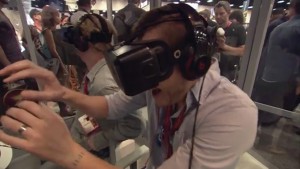 Similarly, Warner Bros. found a way to bring its latest action flick to life for consumers in a fully immersive experience.
From trucks and planes being tossed around by savage winds, to people clutching on for dear life to avoid being sucked into an abyss, the film Into the Storm depicts a town facing cyclones.
3D tech has ramped up the film experience, but Warner Bros.' agencies wanted to deliver full-blown immersion for the premiere of Into the Storm.
So, stopping short of throwing consumers into an actual tornado, the brand, Omnicom Media Group out of L.A. and Canadian production co Thinkingbox created an experience to mimic what it was like to get "into the storm." A custom glass booth was constructed with four industrial-sized fans, air and audio compressors (the latter placed under the seats to spur body-shaking bass rumbles). Sporting an Oculus Rift DK2, users entered the booth to take in a scene inspired by the film, complete with wind gusts, bass rumbling and VR content. It was also shareable on social media – the headset recorded their reactions, which were overlaid with footage from a webcam.
"Into the Storm" kicked off at San Diego Comic-Con, and made its way to Mexico and Europe, with thousands of users taking part in the experience. It received widespread press coverage, while the hashtag #IntoTheStorm has garnered more than seven million impressions to date. And the opening weekend of the film netted US$18 million at the
box office.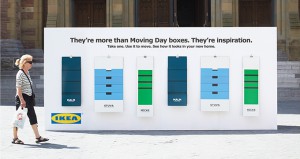 But bringing a product to life doesn't necessarily require help from the latest technology.
Imagine the chaos on the streets of Montreal during its annual Moving Day, when about 225,000 residents relocate. Ikea had previously got in on the hustle and bustle, but working with its agency, Leo Burnett, the brand took it to the next level in 2014. They tapped into the fact that movers are often tired, hurried to relocate and getting used to their new surroundings, making decor decisions difficult. This led to the insight of "seeing is believing" and its application to furniture – people are curious about how it will work with their space.
So they created inspirational boxes that were replicas of actual furnishings (with the proper dimensions and colour), yet functional and conducive to moving. They allowed movers to test-drive pieces, such as the Malm nightstand. To distribute the boxes, the retailer set up street-level boards downtown. And within hours, all the boxes had been claimed.
Similarly, Lanctôt Ltée's Louisville Slugger brand of softball bats and its agency Taxi hit a home run with an interactive experience to excite consumers about a product.
With the knowledge that the softball community is competitive, interested in premium bats and "geeks out" on new gear, the idea was to offer slo-pitch enthusiasts a shot to compete and get their hands on its new prime bat (the Z-3000) before it hit the market.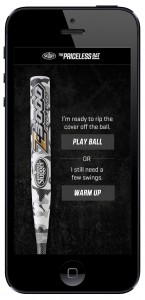 ThePricelessBat.com was a batting-simulator game, where users could swing their smartphones as they would a bat, while a video of a pitcher ran on a computer screen in front of them. An accelerometer in their smartphone recognized their swing to determine how far they virtually hit the ball. After three swings, the best hit determined a player's position on the leaderboard, establishing how much they would have to pay for the Z-3000. The best hitter would win the bat at no cost.
The day the bat launched, the game was attributed to 23% of the limited supply sold in Canada. ThePricelessBat.com generated about 8,500 views, with users spending an average of more than three minutes on the site. During the peak of the campaign, brand mentions increased 100%.
As these winning cases demonstrate, marketing can be anything but passive – all it takes is a little genius to bring a brand to life.
The hardware
Ubisoft " Watch_Dogs Live" Publicis  Grand Prix – Commercial, Gold Transmedia, Gold Tech Breakthrough, Gold AToMiC Collaboration, Gold Experiential Engagement, Gold Digital Engagement, Silver Brand Integration, Silver AToMiC ROI, Silver Niche Targeting // Ikea "Inspiration Boxes" Leo Burnett Gold Print Engagement // Lanctôt Ltée (Louisville Slugger) "The Priceless Bat" Taxi Bronze Niche Targeting, Bronze Tech Breakthrough  // Warner Brothers "Into the Storm Oculus 4D Experience" Omnicom Media Group / Thinkingbox Silver Tech Breakthrough