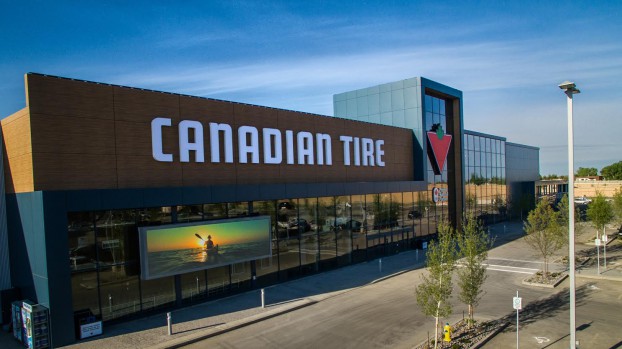 Canadian Tire is continuing to play digital offence with a new Edmonton "showcase" store, focused on providing immersive, interactive experiences for customers.
The 140,000-square-foot, two-level store soft opened at the end of May and will have its grand opening this Thursday, with events through the weekend. The store includes more than 100 digital screens, digital flyer access, an exterior LED screen and unique product selectors across several of its departments.
The automotive department, for example, includes a car simulator, allowing customers to have the opportunity to test drive tires in different weather conditions. Its seasonal department, meanwhile, currently has a backyard and patio builder tool, where customers can use interactive screens to design their dream outdoor space. That tool was built internally at the retailers' "NEWcleus" digital lab in Winnipeg and uses virtual reality technology from Oculus. Canadian Tire's in-house digital experts, who work as part of its innovation lab partnerships in Manitoba and Ontario, also helped build the digital experiences for the store.
The store also includes 50,000 square feet of warehouse space dedicated to house inventory for fulfilling online orders, along with a drive-through area for customers to easily pick up e-commerce purchases. That's in addition to 19 other full-service drive-in auto bays and six drive-in reception bays.
"Essentially for us, it was an opportunity to show that we're really at the forefront of driving innovation and digital integration into bricks and mortar," says Micheline Davies, VP, store design and merchandising at Canadian Tire. The idea is to provide customers a place to try out things like hunting and fishing equipment and furniture, and use digital tools to help make purchase decisions.
It's also a way for younger adults – who may not yet be homeowners or car owners – to view Canadian Tire as a place that's more modern and plugged in to their needs, Davies says. "This store as it stands is a test-and-learn environment for us," she says. "We really wanted to have a location that would showcase the best of the best in retail from around the globe."
Canadian Tire will be driving traffic to the new Edmonton location through its regular marketing channels, such as its flyer and through earned media, along with possibly having events with local celebrities.
The new location builds off the success of the digitally-focused Sport Chek flagship store in the West Edmonton Mall, which opened last year and is part of Canadian Tire's retail segment. Another brand in the retail unit, Mark's, also plans to open a similar "test store" in Edmonton this fall.