Helping Crime Stoppers hold the trigger
To reduce the number of illegal guns in Vancouver, the organization looks to common citizens for help.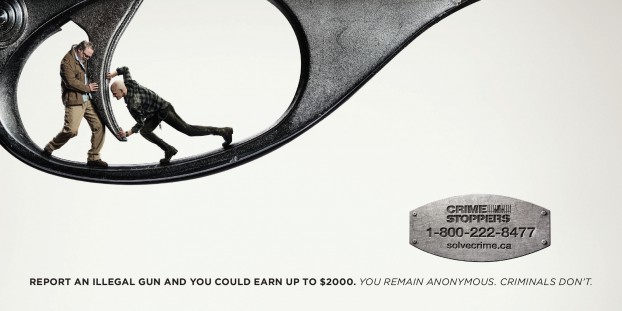 For the first time, Metro Vancouver Crime Stoppers has launched a new campaign aimed at reducing the number of illegal guns in the city.

While Crime Stoppers has offered rewards for guns in the U.S. and Toronto, this is the first time it has done so in Vancouver, offering a reward of up to $2,000 for a tip that leads to the seizure of an illegal gun, compared to $500 that has been offered in Toronto. This is being done in response to a recent spree of shootings in the Vancouver area.

In a campaign supporting the new initiative by DDB Canada's Vancouver office, more than 300 posters on billboards, digital screens and transit shelters in the city show common citizens fighting criminals to prevent a trigger from being pulled and encourage them to call the tip line.

Roger Nairn, account director at DDB Canada and account lead on the new Crime Stoppers work, says while the organization has always focused on areas where it sees "flare-ups" in criminal activity, this is the first time it has focused specifically on guns.

DDB worked pro-bono on the campaign, with much of the media (handled by both Crime Stoppers and OMD) being donated by Lamar Advertising, Pattison Outdoor Advertising, the Province newspaper and numerous local radio stations. Murmur Audio, which worked on radio ads, and Frank Hoedl Photography, which worked on the OOH, also worked at a discounted or donated rate.

The trio of radio ads target women directly, aiming to "distract" any males listening by making them think about things like math questions or monster trucks. Nairn says this is being done in response to an insight offered by the client that showed many involved in gangs often coerce their partners and female family members to hold illegal weapons for them, something that is just as "stupid" as the dumb things guys are being distracted by in spots.

While the tone of the radio ads are somewhat tongue-in-cheek for such a serious issue, Nairn says that was done to avoid coming off as "the stern parent," getting women's attention with a humorous idea before delivering the more serious message of the spots.

The campaign will be updated with new radio and the addition of TV spots that are currently in the works and target more of a general audience, Nairn says.