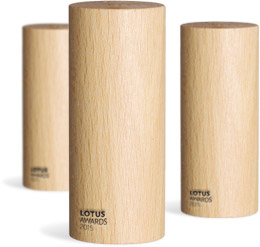 This story has been updated below with the most recent addition to the awards jury.
The Lotus Awards, which recognizes the best work in British Columbia's advertising community, has announced changes, additions and a new jury for its return later this year.
After being called off by the Advertising Agency Association of British Columbia in 2014 due to a variety of issues, the ICA announced earlier this year it would be bringing back the show for 2015. Because of the hiatus, submissions to the 2015 show may be from the previous two years.
In addition to the previously-announced awards chairs (Frank Palmer, chairman and CEO of DDB Canada, Nadine Cole, SVP and general manager of Cossette, and Scot Keith, founder and CEO of 123w), Lotus has announced its jury for 2015 and pledged support to the 50/50 Initiative, ensuring equal representation of men and women. One more juror is still to be announced, but those named so far are:
- Claude Auchu, partner, VP and creative director, Lg2Boutique
- Brent Choi, CCO and chief integration officer, JWT Canada
- Israel Diaz, CCO, Y&R Toronto
- Monique Gamache, partner and design director, Wax
- Caroline Murphy, SVP and consumer practice leader, lifestyle, MSLGroup
- Denise Rossetto, SVP and ECD, BBDO Toronto
UPDATE (6/30/2015): The Lotus Awards has announced its seventh and final judge: AJ Hassan, VP and CD at Leo Burnett Chicago. The global advertising community became much more familiar with Hassan last week, as she frequently took to the main stage during Cannes Lions to accept awards for her part in Always' "#LikeAGirl" campaign, which took home 14 Lions.
Lotus has also revamped its submission guidelines in response to best practices at other shows and feedback from agencies and marketers in B.C. A PR category has been added to the existing broadcast, campaign, craft, design, digital, branded content, not-for-profit/public service, out-of-home, print and media innovation categories. While work may be entered into multiple applicable categories, in order to showcase as much of B.C.'s talent as possible and to prevent single campaigns from dominating the show, no individual piece of work will win more than two awards.
The show is also taking a hard stance against "fake" ads, as has been done at others including Clios, D&AD and One Show. Anyone found to have submitted work that was not for a client, done for a non-existent client, was never put into market or created by an agency's office based outside of B.C. will be disqualified and banned from entering work for the awards next year.
Lotus has also announced Lotus Talks, a new conference and speaker series sharing the insights from thought leaders in the industry. In addition to a panel featuring this year's judges, speakers include Winston Binch (North American chief digital officer at Deutsch), Gareth Kay (co-founder of Chapter), Nick Parish (president for the Americas at Contagious) and Keith Reinhard (chairman emeritus at DDB Worldwide).
Lotus Talks will be held during the day on Nov. 5 at the Fairmont Vancouver, followed by the awards gala at 6 p.m. Entries for the Lotus Awards are open now, closing on Aug. 4.