Turning it up for NXNE
How two of the festival's title sponsors are stepping up to reach Toronto's music lovers.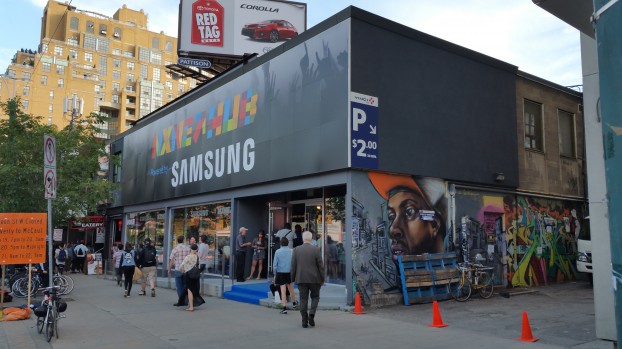 Toronto's NXNE is one of the city's biggest annual events, with tens of thousands of music fans roaming the streets between concert venues. Event sponsors have pulled out the stops in past years, so we're taking a look at how two of the festival's title sponsors are utilizing the opportunity to reach music fans.
Samsung powers the festival experience
In its second year as a festival sponsor, Samsung is powering the "NXNE Hub" at the corner of Queen St. and Spadina Ave., integrating the company's phones, tablets, headphones and SUHD screens in the festival headquarters that acts as a ticket box office, artist registration area, artist interview location and media hub. The Hub will also feature daily programming, including concerts, art exhibits, comedy performances and film screenings. Samsung's SUHD screens will also display information about events, showing content from ones that visitors might have missed, as well as aggregate social media content so people can plan their NXNE experience and get closer to experiences they may not be able to see in person.
"There always seemed to be a natural tie between innovation in technology and innovation in music," says Mark Childs, CMO at Samsung Canada. "These artists, as well as their fans, are often early adopters when it comes to technology. This year's activation speaks to our target and adds value to their festival experience, versus a traditional sponsorship; we recognized the opportunity for our technology to play a crucial part in helping fans not miss a moment of NXNE."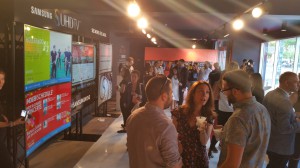 Samsung will also be using the giant digital OOH screen it debuted during last year's festival to live-stream concerts happening below at Yonge-Dundas Square, the biggest ones the festival has to offer, as well as aggregating social media posts about the show by working with aggregation service Tagboard. During tomorrow's Yonge-Dundas concert, headlined by the New Pornographers, Samsung will be demoing the new Galaxy S6 smartphone by giving concert goers an elevated platform to get closer to the performance and take better photos with the device's camera.
"We are looking to reach the music fans within our young-minded consumer target in the places where they are already experiencing something they are passionate about, which in this case is live music," Childs says. "Our focus at Samsung is to help Canadians get closer to their passions through our technology, and music is one of those passions. NXNE presents a unique opportunity for Samsung technology to get them closer – either physically, or through VIP access and exclusive content – to the music they love."
Budweiser creates a rallying cry
Even though NXNE is often a tech-heavy event, even for brands in other categories, music is at the festival's core, and Budweiser is looking to enhance experiences attendees are already having with a new concept it is introducing at this year's festival.

The brand will once again be sponsoring a show at Toronto's legendary Horseshoe Tavern venue and is sponsoring tonight's Yonge-Dundas Square show headlined by Hollerado.

Andrew Oosterhuis, director of marketing for Budweiser, says the activation tonight will be a combination of the communal, unifying act of raising a beer that many fans already do with the insight that they also want to have the power to create more, exciting experiences.

"Within music fans, the desire is always for more live music so they can continue to participate within the collective energy and excitement there," he says. "Budweiser wants to play a role in amplifying that, so we zeroed in on that and created what I think is a pretty interesting rallying cry."

Much like Samsung, Oosterhuis says Budweiser was looking for a way to really integrate its sponsorship with the festival, instead of just activating with things like signage. "Raise Your Bud" is going to be something of a music festival platform for the brand this summer, as it will be used for fans to unlock other experiences at festivals across Canada including the Squamish Valley Music Festival and Amnesia Rock Fest, as well as non-music events like the Calgary Stampede.

"We're trying to find ways to really integrate and play a more relevant role," Oosterhuis says. "Bestival [where Budweiser was also a sponsor] is a very different experience than NXNE which is very different from Squamish, so this is a way for the brand to be relevant to each one."