Nutrilait's new look
The Saputo milk brand takes a simple approach to its new positioning.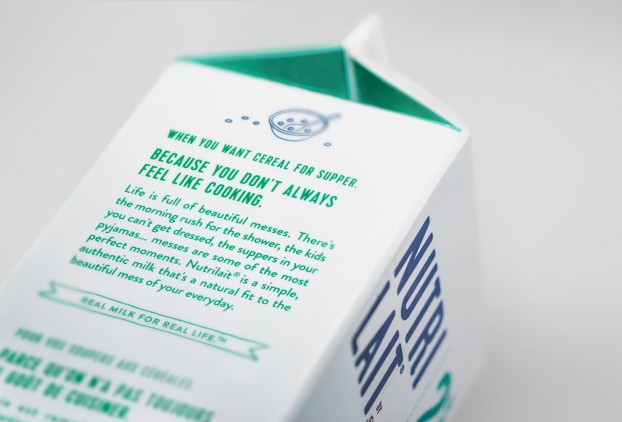 Don't cry over spilled milk – it's just part of real life.
Nutrilait, a Saputo milk line product, has repositioned itself as a "real milk" that fits an imperfect lifestyle, to coincide with its expansion to more retailers in the Quebec market.
Saputo produces several other lines of milk that are well known across Canada, including Neilson in Ontario, Dairyland in Western Canada and Scotsburn and Baxter in Atlantic Canada. But in comparison, Nutrilait, which originated in Trois-Rivières and was acquired by Saputo in 2001, has low awareness in Quebec, going up against big names like Natrel, Beatrice and Parmalat.
To create its new positioning, Saputo worked with Taxi Montreal on new text-based package design, a new website in English and French and a new look for its truck fleet, all based on the tagline of "Real milk for real life."
That positioning really is the personality of the brand, says Sandra Cadieux, director, category development at Saputo.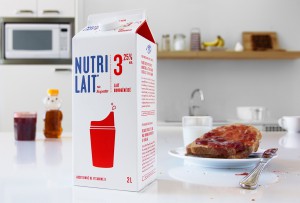 In store, POS materials in various milk-complementary aisles – such as near cereal, cookies and coffee – direct people to the dairy case.

While young families are a natural target, its repositioning is also meant to be identifiable for people who may have an imperfect but realistic lifestyle (think those who might want to eat cereal for dinner and not feel bad about it), adds Pascal De Decker, general manager and executive creative director at Taxi Montreal.

For example, the new website includes recipes with names that play on the "real life" positioning, like "Picky Kid Pasta" and "The Stay Awake Shake."

This summer, the push includes sampling outside of stores in the greater Montreal area, and this fall, an integrated marketing campaign with the "Real milk for real life" positioning will launch.

Total fluid milk consumption per capita in Canada has been declining over the past decade, according to Statistics Canada. In Quebec, consumption has fluctuated year to year, but it has also seen a decline.

Perhaps because of this, dairy products and organizations have been marketing aggressively.

Back in March, the Dairy Farmers of Canada also launched its "Get Enough" campaign, focused on dairy as part of a healthy overall diet.

In May, Agropur partnered with Quebec coffee chain Java U to open the Natrel Milk Bar, a café offering a variety of Natrel products. That brand has also shifted gears to have a more natural image and recently redesigned its packaging, along with placing an increased focus on its lactose-free option.