Canadian Tire navigates a reinvention
The team at Jackman Reinvents takes a deep dive into the strategy behind the retailer's new Edmonton showcase store.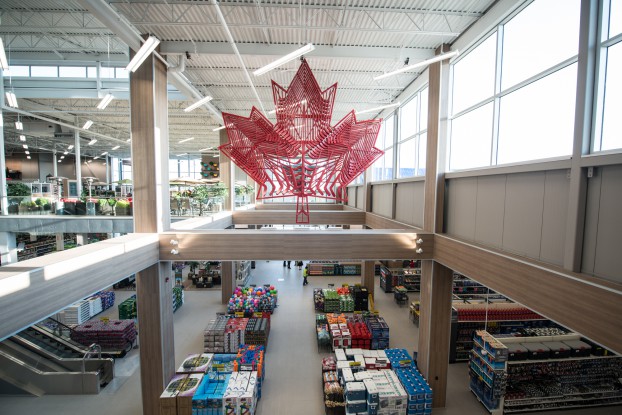 A maple leaf made of 275 hockey sticks hangs in Canadian Tire's recently-opened showcase store in Edmonton, constructed by Taxi as part of Jackman Reinvents' concept for the location.
Retail innovation doesn't always mean digital innovation, although having creative digital tools can certainly help.
Jackman Reinvents had been working with Canadian Tire since the fall of 2013 to look at its strategy and identify opportunities for long-term growth, landing on enforcing the retailer's place as the "go-to local guide to life in Canada." In the spring of the following year, the opportunity came about to put its plans to the test with a new showcase store in Edmonton, which was launched early last month.
"The timing was perfect because we had just aligned on this purpose with them and we got the opportunity to use the strategy and bring it to life across all of the touchpoints," says Tracy Fellows, COO at Jackman Reinvents. "Digital is one of those touchpoints, but more importantly, it was about understanding how the customer wants to visit Canadian Tire, from their home right to the in-store experience."
The main task, Fellows says, was working with Canadian Tire's retail team and new innovation lab to identify pain points for customers and find ways to turn them into value opportunities. One of the main things that guided the redesign was that the retailer's biggest charm – having a deep, wide array of products – was also resulting in a cluttered, hard-to-navigate shopping experience that made it hard to show off specific products.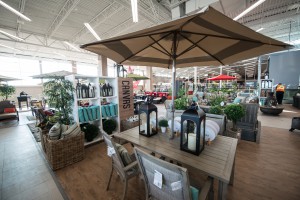 In response to this, the sizes of shelves were made more varied and portions of the floor between the first and second levels were knocked out to give the store better sight lines. When first walking through the door, nearly every department is visible and can be easily found, meaning the amount of signage and colour-coding for the aisles could be rolled back. The amount of red was also scaled down, used only for brand messaging, the logo and a giant maple leaf that was constructed by Taxi out of 275 hockey sticks, that hangs from the ceiling. Glazed glass on the second floor lets in more natural light, giving the store a cleaner and less busy look. The extra space also meant more innovative products and those featured as part of Canadian Tire's "Tested for Life in Canada" platform were given special space at the ends of aisles. With a less busy environment, Fellows says this makes the products themselves the hero of the store by giving them more space of their own and making them easier to immediately find.
Highlighting products and making navigating one's path to them easier was also what drove much of the digital elements in the store. The store features numerous interactive and virtual reality simulations, from a driving simulator to test tires in different weather conditions to placing furniture in a digital backyard using Oculus Rift.
"This store as it stands is a test-and-learn environment for us," Micheline Davies, VP, store design and merchandising at Canadian Tire, told strategy ahead of the store's launch. "It was an opportunity to show that we're really at the forefront of driving innovation and digital integration into bricks and mortar."
Arnaud Van de Voorde, VP of digital at Jackman Reinvents, says the digital tools can take a lot of information about Canadian Tire's extremely deep product selection and make it more navigable, possibly even for other, smaller store configurations.
The store also features dozens of digital screens, and Van de Voorde says the idea was to create a dedicated "hierarchy" for them, with each one having a specific task. The first layer of the hierarchy is screens with messaging consistent with both digital and physical flyers, making it easier to locate products that are part of a sale or promotion. The second is more interactive, allowing customers to go through a project step-by-step in tutorials and videos, making sure they have all the tools and products they need, and pointing them to the section in the store where they can find them. The third is also interactive but geared more towards those who already know what they need, giving them more information and a quicker path-to-purchase with things like windshield wiper or tire selectors.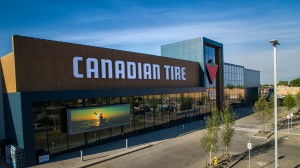 The showcase store also attempts to make picking up online orders at the brick-and-mortar level easier through improved use of store space, an expanded warehouse and an area to ask questions about additional products. Van de Voorde adds that enabling a more comprehensive experience in-store will also be a definite driver for e-commerce by allowing consumers to more easily take research they have already done online and bring it to one of the in-store customer service hubs.

"What we wanted to avoid was a mistake a lot of retailers make today where, after doing all this research at home, you have to start that cycle of discovery all over again with an associate in-store," Van de Voorde says.