National hires a pair of new leaders
Former Kenna creative lead Brian Langerfield and strategy consultant Julien Coulter join the PR agency.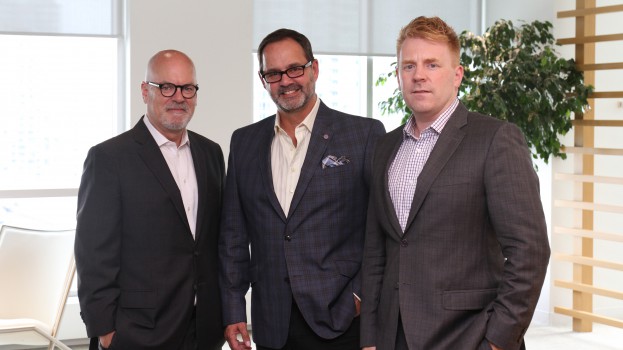 From left to right: National's managing partner and chief digital strategist Rick Murray with new ECD Brian Langerfield and head of strategy and planning Julien Coulter.
National PR has new leads for two of its departments, hiring Brian Langerfield as executive creative director and Julien Coulter as head of strategy and planning, as the agency brings more data-driven solutions to its "evolving" offering.
Langerfield was most recently SVP and ECD at Kenna, which was merged with sister agency KBS last month. He joined Kenna in 2012 from Wunderman, and Rick Murray, managing director and chief digital strategist at National, says Langerfield's experience at the CRM and data-focused agencies made him a perfect fit.
"The work he was doing to create action-oriented outcomes is exactly what we're looking to be doing," he says. "The search was about finding whether we wanted someone with strong experience in your classic 30-second spot, or someone interested in things that have delivered measurable business outcomes on a day-to-day basis, and I think our storytelling is going to be skewed down that path."
The ECD position is a new one for National. Jason Partridge, who was the former creative lead at Sonic Boom as VP and creative director, departed the agency earlier this year before National absorbed its content marketing and digital subsidiary. Langerfield's role will cover many of the same responsibilities, while also having an eye towards building the agency's creative capabilities and how they are deployed.
"He'll be touching everything we do, working with current teams and building more as we look to better integrate research, planning and creative," Murray says. "Jason was great while he was at Sonic, but as we look at National and our broader portfolio of things like corporate communications or healthcare, it's those areas where we weren't necessarily doing or exploring the possibility of layering creative and strategy into that."
Coulter has been a strategy and research consultant since the fall, when he left his post as director of research and strategy at consultancy Fresh Squeezed Ideas. He also spent four years as a strategist at Publicis' healthcare insights division In-sync, which Murray says gives Coulter particularly valuable category experience. Coulter also spent another another four years as a strategic planner at Leo Burnett.
Murray says another staff member has been added to the strategy team Coulter will be leading in the last 90 days and expects them to be the first of many. Since embarking on its "evolution" earlier this year, Murray says National has also been pitching for work that wouldn't traditionally be a PR pitch, and seen increased non-PR work from its existing clients.
Last week, National also acquired financial communications firm Equicom from TMX. The deal, which included the hiring of Ronald Alepian to run the new National Equicom, brought 120 new clients to the agency and 14 new creative staff. While Murray says there may be AOR opportunities for National to explore within those new additions to the roster, Equicom had not been doing any consumer-facing work, and the acquisition was done more to round out the agency's expertise in the financial sector.