Subway fishes for quality
Sid Lee's first campaign for the QSR takes it in a new direction to promote its Atlantic Canada Lobster offerings.
Subway is promoting its Atlantic Canada Lobster sub and salad with a campaign that nods to the dish's roots.
In the first national work for the brand by Sid Lee since winning the account in April, a grizzled Atlantic fisherman weaves a tale about his wish to once again put his hands on the giant catch he let get away – which is revealed to be Subway's lobster sub, once again available at the QSR this summer.
Carat handled the media buy on the campaign, which also includes digital display, print, out-of-home, radio and in-store creative.
Simon Pure Marketing is also helping to run a contest during the campaign, where customers can "crack the shell" of the lobster on their drink cup, revealing a PIN code that could win them Subway gift cards or a grand prize of $20,000 in cash.
"Since we had the sandwich last year, we decided we to bring in another reason to celebrate the sandwich and Subway," Kathleen Bell, director of national marketing for Subway Restaurants Canada, says of the contest. "It might give people another reason to come into Subway, or another reason to pair a sandwich with a beverage."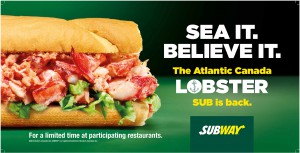 While lobster has remained a summer menu item in Atlantic Canada since 2006, it was absent from Subway menus nationally until last year.

"Canadians are craving a premium option, no matter where they are dining," Bell says. "We knew last year that bringing in 100% premium lobster meat would speak to that, but maybe more than we predicted because we were a little short last year and had to wrap the window sooner than we thought."

Bell says the challenge, as with any QSR, remains driving customers to restaurants, and having this kind of option can increase traffic among diners that might be looking for something different than its regular offering.

"I think a premium lobster sub speaks to a different consideration set," Bell says. "It puts Subway in a whole different frame of reference for those who have a favourite sandwich, but also for people that haven't visited in a while."