Nutrilait's rebranding gets real
The milk brand launches ads showing its place in those less-than-perfect everyday moments.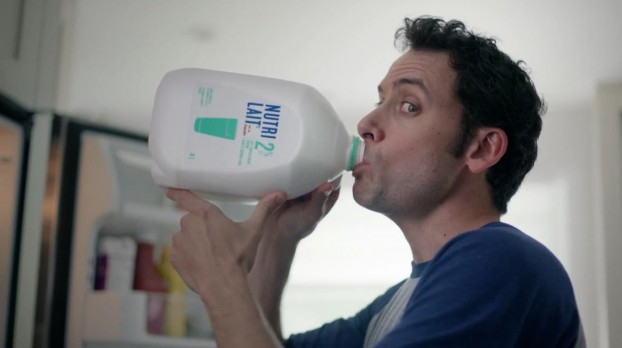 Nutrilait is advancing its recent rebranding with a new creative platform that celebrates the little moments of frustration in everyday life.
Dubbed "Le vrai lait pour la vraie vie" ("Real milk for real life"), the new phase of the Quebec campaign adds OOH, digital banners and three TV spots to the store sampling, in-store signage and new website that launched with the rebranding last month. The new ads put the milk in the background of scenes most families can relate to, like getting caught doing something you shouldn't by your daughter, giving the kids cereal for dinner or trying to get some alone time at night.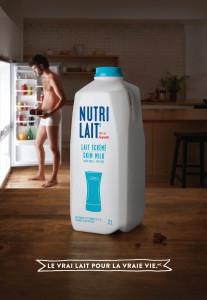 As with the rebranding effort, Taxi's Montreal office handled the creative for the new phase of the campaign, with Touche! on the media buy.

Pascal De Decker, ECD and general manager of Taxi Montreal, says the idea was to use the TV spots to elevate the new positioning that came with the rebrand, while the OOH and in-store materials focus on the new package design, which has a text-based and more modern design to appeal to a target of younger families, so consumers know what to look for.

"In TV, we didn't want to make it, 'this ad is about milk and there's milk in the bottle so you can drink milk,' otherwise there'd be nothing new in there," he says. "Most milk [advertising] here is around stuff like what kind of farm it comes from or how pure or how fancy it is. This was about a super simple scene that may happen in anyone's life and the milk could be there for."

De Decker says the idea was to tell simple, family stories to fit with the new positioning of simple, regular milk that was reflected in the simplicity of the design, which he believes makes the positioning more authentic in addition to different from other milk brands.

"It's about those nights when you don't want to cook or you drink milk out of the carton in your underwear," he says. "It's not your typical family in an ad where everything is perfect and gorgeous. We wanted something that was real. We didn't go so far as to show people who don't take care of themselves. It's just little things that aren't glamorous but are how you really live your life."

Sandra Cadieux, director of category development at Saputo, told strategy when the rebranding launched that reinforcing the role of its products in "real life" is part of the personality of the brand. The overall rebranding and push behind it is part of a continued effort by Saputo to increase awareness for Nutrilait in Quebec, where it has been facing competition from Natrel, Beatrice and Parmalat as the category as whole faces a decline in consumption.