A vote to end MS
The MS Society uses election-inspired lawn signs to keep multiple sclerosis top of mind when Canadians head to the ballot box.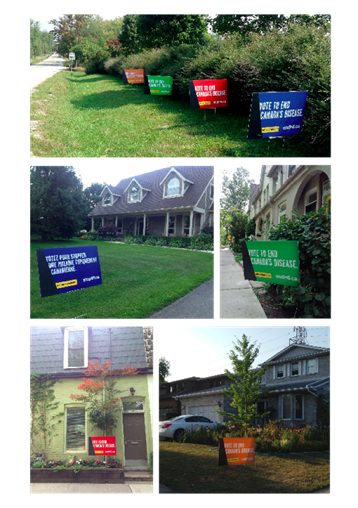 The MS Society of Canada has launched a third campaign in its "Flee or Fight" series, this time bringing the reality of "Canada's disease" right to voters during the current federal election.
In a campaign by Mackie Biernacki, the MS Society has been erecting lawn signs that bear a striking resemblance to the ones currently being used by candidates in Canada's federal election. The signs, appearing in the full range of party colours in both official languages, say "Vote to End Canada's Disease," which is based, as its two other campaigns in "Flee or Flight" have been, around the idea that MS is "Canada's disease," as Canadians have the highest rates of MS in the world.
The "#ElectToFight" campaign, which also features direct mail, digital and social components, runs until voting day on Oct. 19.
The goal for the new phase is to get 10,000 letters sent to candidates by supporters on behalf of the MS Society to make the disease an election issue. Owen Charters, chief marketing and development officer at the MS Society of Canada, says 8,000 letters have been sent since the signs went up last week.
However you vote, make it count. #ElectToFight pic.twitter.com/ywj0u89g4U

— MS Society of Canada (@MSSocietyCanada) September 10, 2015
"We wanted to develop clever and efficient ways to maintain brand awareness, and we saw an opportunity to capitalize on a time when Canadians are paying attention, during the federal election," Charters says. "It's not enough that we have targeted Canadians in general with our past 'Flee or Fight' campaign – this campaign delivers a message to Canadians, but especially to our political representatives that Canada's disease needs a Canadian response, including from parliament."
While the past campaigns have focused on stories of people living with MS and promoting research, "#ElectToFight" is focusing more on changes to policy that can not only improve the amount of research that goes towards fighting MS, but make living with the disease more manageable. As an example, Charters points to employment insurance, which is typically available to people with a permanent disability but ill-suited to those with MS, who can alternate between being able and unable to work.
Even though the signs have been done in a range of colours to avoid appearing to endorse any particular party or candidate, Charters says this campaign is meant to target a more politically-minded Canadian who might not have seen the Society's other OOH and social work this year, as well as to reinforce that the disease affects all Canadians, regardless of political affiliation.
As before, Canadians can go to the MS Society's website and pledge their support to the cause, which includes sending their own message to their local candidates.