Read all about it: Rethink wins big at Extras
The agency takes home most awards from Newspapers Canada for the best in print advertising.
Newspapers Canada has announced the winners of this year's Extra Awards, honouring the best in the country's newspaper ads over the past year.
The awards were scaled down from past years, with the judges electing to name overall winners in each category instead of the previous Gold, Silver and Bronze setup. The judges also deemed that fewer entries were award-worthy, resulting in no winners being named in several categories (winners were named in five categories, compared to 15 in 2014).
Rethink was the biggest winner this year, taking home three awards. The agency won in Public Service and Advocacy for its "Long Tag" campaign for the Canadian Fair Trade Network, showing how long the tag on your clothes would have to be to show the full story of how it was made, beyond where it came from. Its display banner for United MMA, where a fighter knocks the user's cursor out of the air and destroys it, won for best Online Ad for a Newspaper Website, and its ad for Splashdown Waterpark showing a hairy dad shaking off some excess water won in Travel, Tourism and Transportation.
Cossette was the winner in Best Use of Print Medium in a week-long campaign for McDonald's. Every day during the campaign, the QSR was offering free coffee, and the page featuring crossword and Sudoku puzzles in 24 Hours Vancouver featured a stream of coffee flowing through its cells into a cup at the bottom of the page.
The other winners were Lg2 for its campaign promoting healthy snacking for Krispy Kernels; FCB Toronto for the print elements of its "Nobody's Memories" campaign for PFLAG; and Leo Burnett for the print elements of the "Humans for Humans" campaign for Raising the Roof. All of the winners can be seen below.
This year's judges were Martin Bélanger, managing director and creative director at Union Montreal; Eva Polis, creative director at DDB Edmonton; Matt Antonello, copywriter and group creative director at Saatchi & Saatchi Canada; and Pete Ross, creative director at Co-Op Advertising.
Best Use of Print Medium
"Epic Pour"
Cossette
McDonald's Canada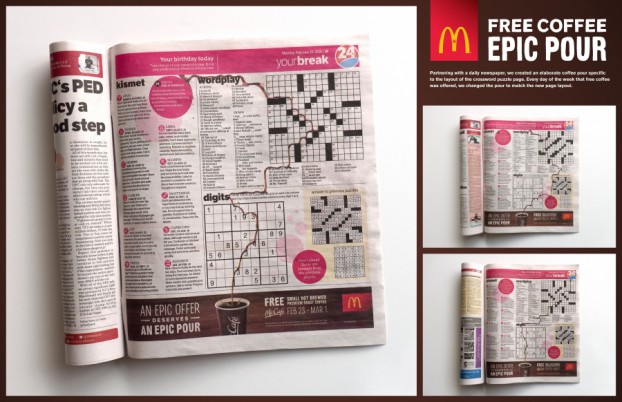 Food, Beverages, Drugs (Campaign)
"Donut," "Cone" and "Chocolate"
Lg2
Krispy Kernels
Online Ad for Newspaper Website
"United MMA 2014 Campaign"
Rethink
United MMA
Public Service and Advocacy
"Humans for Humans"
Leo Burnett Toronto
Raising the Roof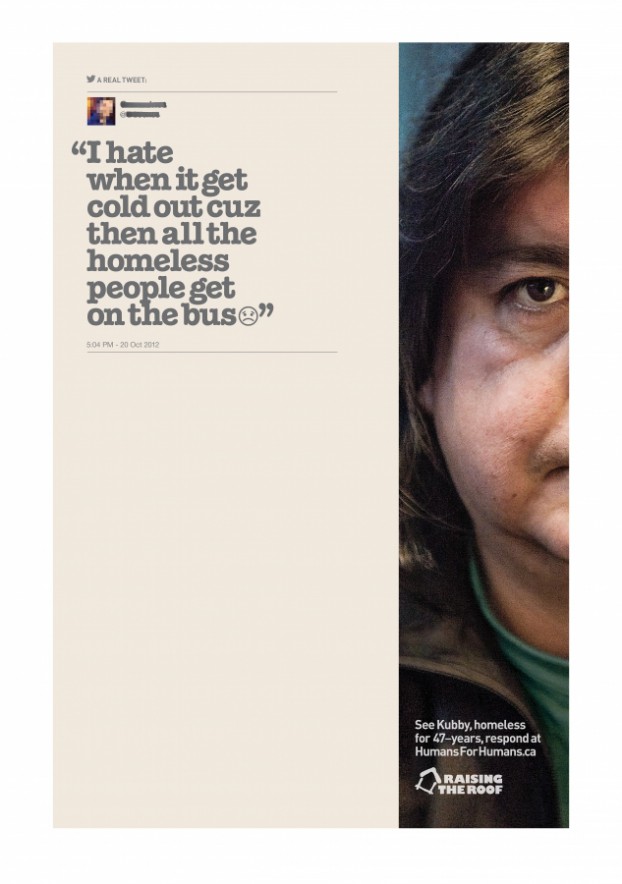 "Long Tag"
Rethink
Canadian Fair Trade Network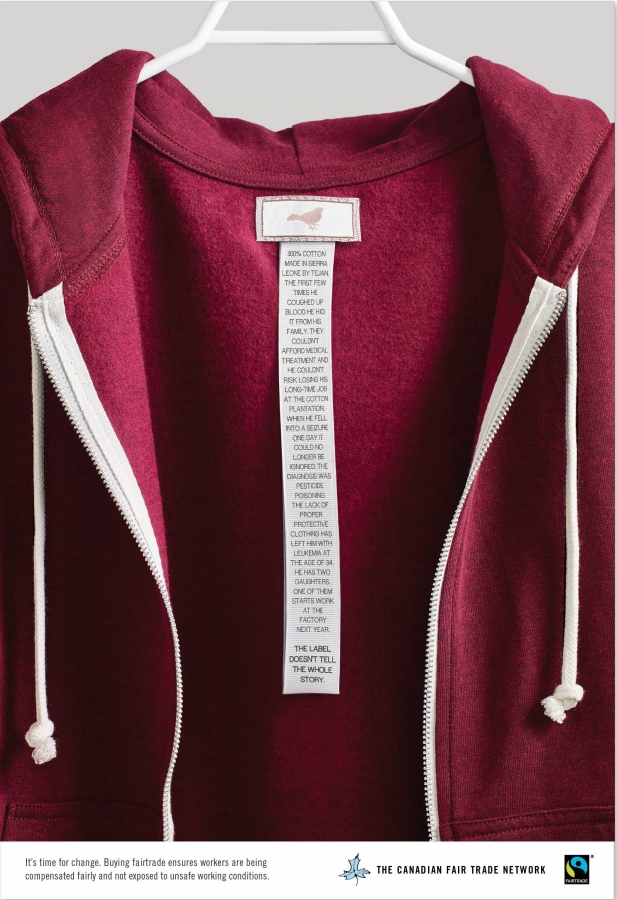 "Nobody's Memories"
FCB Toronto
PFLAG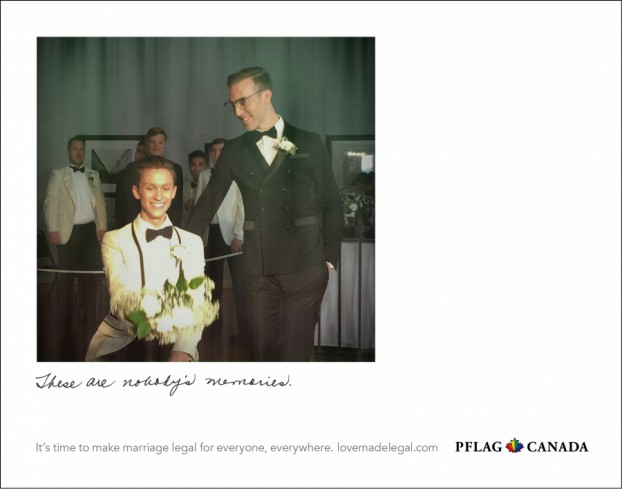 Travel, Tourism, Transportation
"Shaky Dad"
Rethink
Splashdown Waterpark