SickKids' fight gets more hopeful
A pair of videos launched for Pediatric Cancer Awareness Month show the momentum around fighting the disease.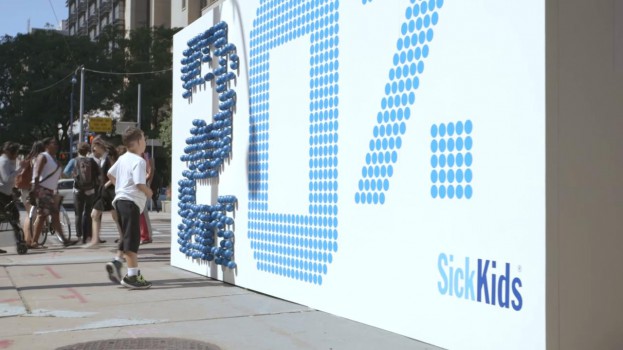 SickKids hopes a pair of videos will stir up more public support for its fundraising efforts.

In addition to regular fundraising efforts and events like the annual Rally for Kids with Cancer, the hospital released a pair of videos during Pediatric Cancer Awareness Month in September.

The first video by Cossette (which won the account in May) focuses on Grace, one of the children featured in last year's "Better Tomorrows" campaign by JWT. With the support of her parents, Grace is shown during her time at the Hospital for Sick Children to tell people that, while some kids have tragically lost their battle, fighting childhood cancer is still worth it by funding more research.

"We're very proud of the courage of Grace's family in participating in this," says Lori Davidson, VP of brand strategy and communications at SickKids Foundation. "It's not something we've done before, but it's very brave of them and it's powerful, so we know it's going to help the cause."

As stated in the video, over the past 50 years, the survival rate for childhood cancer has gone from 10% to above 80%. That same idea was used in a public activation in Toronto, executed by the internal team at SickKids, where a board featuring a giant "20%" was set up, with the "2″ made of stress balls. Every time someone made a donation, they could pull one of the balls off the board, until only a 0% remained.

Davidson says focusing on that statistic puts out a more hopeful message and fights the perception of cancer being a "death sentence."

"They're not, in many cases, aware of the progress that's been made and the sense of momentum around how close we are to really solving the problem of cancer for children," she says. "The fact of the matter is that cancer is not always the death sentence it once was, and there's a lot of hope. We're trying to inspire that hope, because currently that's not people's view of the topic."

Davidson says the tone of the stress ball activation was more appropriate for a large public activation, while Grace's powerful, personal story was better shared through a more intimate platform, being sent directly to previous donors and supporters that follow the foundation on social media. While both videos were created specifically to raise awareness for SickKids' work and drive donations during September, Davidson says the 80/20 idea has resonated with people and may be a platform the Foundation uses when talking about cancer in the future.

Correction: This article originally incorrectly stated that both videos were created by Cossette. Cossette created the video about Grace's story, while SickKids' internal team led the 80/20 activation and video.