Up to the Minute: PepsiCo ditches procurement
Plus: new leaders at DentsuBos, Razorfish and Thinkingbox, and more news you might have missed.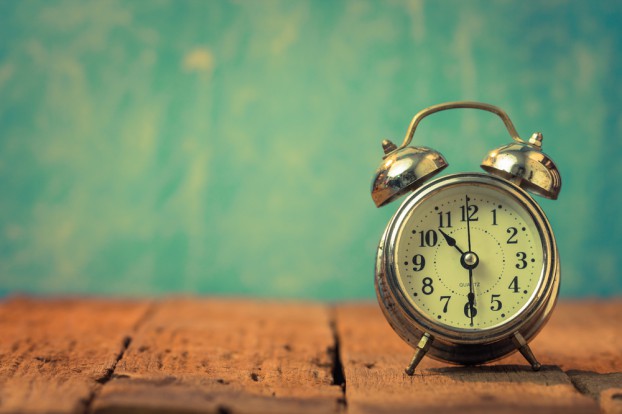 The marketing world never sleeps, which means there are bound to be things that fly under your radar. To make sure you're up to speed, here's some news you might have missed over the last week:
Hires, promotions and changes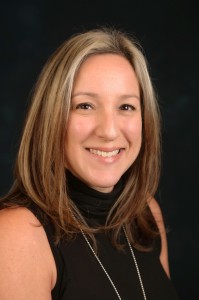 Razorfish Toronto has hired Lisa Wall (pictured, right) as group director of client engagement. Having previously held account director positions with AKQA, BBDO and TBWA, Wall will lead several senior client relationships for the agency and provide strategic direction to it's growing financial services client base.

DentsuBos' Montreal office has made a number of hires and promotions. Freelance consultant Trevor Ham has been hired as VP of client services to lead the team working on the agency's Fido account, which now includes Michael Aronson, who was hired from KBS Montreal as an associate creative director to lead creative. Jean-François Lalande also joins the agency from KBS and will now be an account director on Dentsu's Ultima Foods account. Samantha Hull, who has been with the agency for 11 years, has been promoted to ACD to lead creative for Schweppes and Kamik, while Julien Thiry, who was hired last year from Publicis, has also been promoted to ACD as part of the Transat team.

Olivier Gaston has joined digital agency Human Equation in Montreal as chief business development officer. Gaston, who will be looking to facilitate the agency's growth across North America, has previously been with iWeb, Deloitte and Bell.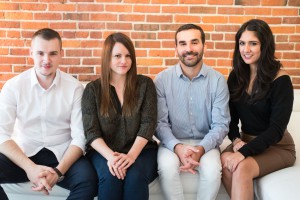 Digital production studio Thinkingbox has made several promotions and hires to its team in Vancouver. Sharifa Samuels has been hired as a digital producer from Glentel, while Cherry Hung joins as a senior digital designer from Noise Digital. Amir Sahba, founder and chief strategy officer of Thinkingbox, said in a press release that the agency has nearly doubled in size this year, and also required stronger leadership to put in place. As a result, Thinkingbox has promoted Natasha Lakhani (far right), Stevie Wild (second from left) and David Holicek (left) to associate director positions, with Lakhani overseeing the shop's producers and managing the day-to-day operations of the agency's offices, Wild providing strategic support and planning on all new client initiatives and Holicek overseeing the production of all 3D, motion and video content. Jean-Michel Saulnier (second from right) has also been promoted to senior creative technologist, providing direction to the creative team on tech solutions. In Toronto, the agency has added Jessie Corney as a senior account manager.

Cohn & Wolfe has hired Raphaël Melançon as a consultant in Montreal. Melançon, previously a communications advisor for the government of Canada and editor in TVA's newsroom, will begin his new role on Dec. 7 and help implement strategies for both private and public clients, focusing on project management, writing, issues management and press relations.

Calgary's Wax Partnership has hired James Brown as group account director. Brown, who has 18 years of experience in the industry, will be leading several accounts at the agency, including Servus Credit Union and Newalta.

Patrick McConnell has been hired by Montreal's Parkour3 as director of production. McConnell has previously worked for CloudRaker and BBDO.
New business

Furniture retailer Tepperman's has enlisted Scratch to develop a digital strategy including web design, email marketing and social media management, as well as handling the buying for online ads and search engine marketing.

Fashion brand Sympli has enlisted NKPR as its public relations agency of record. The agency will lead strategic planning, media relations, strategic partnership development and digital counsel for the brand, focusing on its 15th anniversary.

Enterprise Canada has been named media relations and digital agency of record for the Canadian International Auto Show. Enterprise will be sharing stories from the show with local and international media and look to maintain the show's voice in the digital space year-round. The show, which drew over 313,000 visitors this year, is set to take place in Toronto Feb. 12 to 16.
Around the globe

PepsiCo has eliminated its global marketing procurement department, shifting all responsibility for agency compensation and other marketing activities to executives on individual brands. Looking to improve "speed and flexibility," an executive from the company told Ad Age it has built a "playbook" of procurement practices and procedures to work from so the new responsibilities will not be an added burden.
Media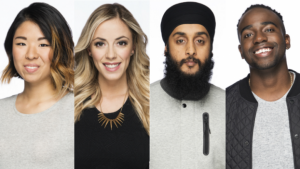 Much Digital Studios, the multi-channel network launched in May by Bell-owned Much, has added 15 more Canadian YouTube creators to its lineup, bringing the roster to 37 (pictured, from left to right: Lookunderhere's Letita Chan, Candace Leca, Fateh Singh, a.k.a. FatehDOE, and Deej design's Daniel Haye).

Facebook's 360 VR videos, previously available to publishers, have now been extended to brands. Brand partners at launch include Samsung, Nescafe, Corona, Walt Disney World, AT&T and Ritz, who will be targeting users in North America, Asia and Europe.

Coca-Cola has launched its #MakeSomeoneHappy holiday campaign, which includes the unveiling of a new digital video board at Yonge-Dundas Square in Toronto, the largest vertical board of its kind in Canada.