The Source modernizes the holidays
The retailer returns to its "I Want That" platform to continue its focus on high-demand tech products.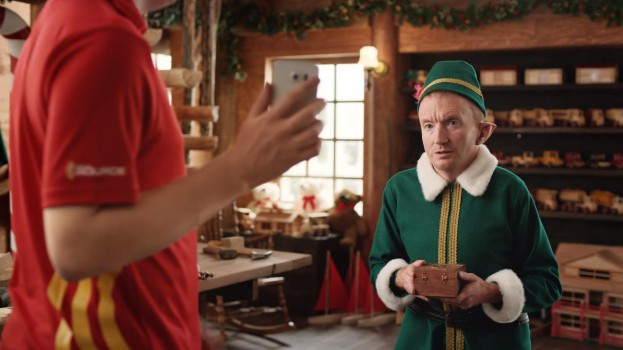 A little elf who needs to get with the times is helping The Source continue its image refresh this holiday shopping season.
Returning to the "I Want That" platform it debuted in 2014 and used for last year's holiday campaign, one of Santa's elves responds to a girl's wish for speakers with an outdated, elf-made gift, only for a member of The Source's staff to show up and correct the situation.
Juniper Park\TBWA created 30-second spots, which have slight variations in terms of punchline and the product featured at the end, and are running nationally on TV and as pre-roll online with media handled by PHD. Also, unlike past years where the radio component of the campaign was more tactical, this year's ads are more closely integrated with the theme of the campaign, with Peppermint the elf figuring out how to give the kind of modern gifts people want.
Ron Craig, VP of marketing and business development at The Source, says having different versions of the spot not only allows the retailer to focus on particular items that are in high demand for the holidays – particularly headphones, audio equipment, tablets and video games – but keeps the concept fresh during the seven weeks of the campaign, which has become increasingly front-loaded.
"Every retailer is dealing with a soft retail environment, but also shifting the holiday business more to Black Friday," Craig says. "We've already seen numbers increase this week, which is the price of entry now. It shifts your holiday business forward and at a lower margin rate, but you really don't have a choice. You have to play in that space."
Craig says some of the categories that saw the biggest consumer response during "I Want That" are the ones that The Source is "leaning in" to them again this year. Last year's holiday campaign and the "I Want That" platform as a whole were meant to shift consumer perceptions away from its Radio Shack past of being "your dad's" store for accessories or a convenient place to get parts, to a destination for top brands and the latest tech, both in its marketing and with new store designs.
"We're seeing that approach work in the share growth we've seen in the product categories we've been leaning in to more, and we're seeing shifts in the demographics coming into the stores," Craig says. "That's an ongoing transformation, and we'd like to accelerate it. A lot of the things we're doing with store designs and renovations take a bit longer to do, but we are starting to see the fruits of it."