Keurig's holiday plans
The coffee machine maker goes content-heavy for its Christmas gift guide this year.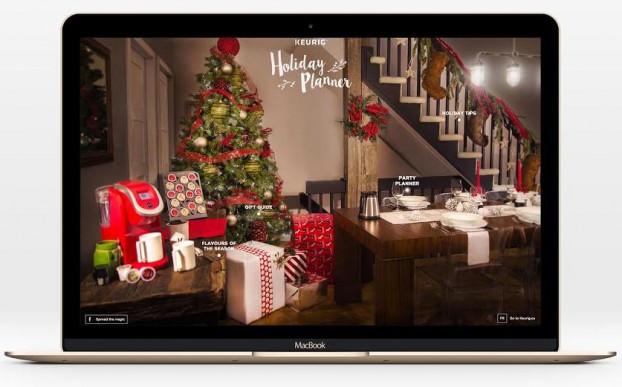 Keurig Canada hopes it can inspire some gift ideas – and purchases – with its new holiday planner microsite.
The microsite includes a photo montage animated to reveal different tools, including a gift guide, seasonal flavour guide and party planner, including recipes made with ingredients that can be brewed with Keurig machines. For example, scrolling over the Christmas tree reveals an image of a mountain of presents and a gift guide of Keurig products.
Product recommendations through the recipes, gift guide (broken down by price range) and party planner (with themes like "eccentric" or "elegant") also link to the brand's e-commerce site. The microsite also includes a round-up of the most popular K-cup products of 2015, from brands such as Starbucks and Laura Secord.
Le Site led creative strategy, content, artistic direction, design and programming.
"We worked around the fact that holiday planning can be complicated and that a lot of details are involved for everything to go smoothly," Marie-Laurence Cossette, marketing coordinator, web content and social media at Keurig Canada told strategy. "We wanted to accompany consumers throughout the season and provide them with a full experience, from gift shopping to party planning."

Keurig is targeting both consumers new to the brand and loyal users of the home coffee brewing systems. "The big idea is similar to what has been done in the past, as we have worked on holiday guides, but the merge between engagement and conversion during the holidays is a first, as we wanted to simplify the planning experience for different consumers," she says.

"In our minds, the target has to be reached via interesting and engaging content. We wanted to demonstrate how Keurig can be relevant to them, and accompany them at this time of year."

Keurig is using paid digital media, social media, newsletters and website banners to drive traffic to the holiday microsite.

The campaign is mainly online, but Keurig also has a Montreal pop-up boutique on Ste. Catherine St. and at the MetroCentre building in Toronto, where consumers can shop for holiday gifts and try the new Keurig Kold system.