Cadbury's convenient new program
The brand tracks behaviour in a convenience store setting as part of its startup partnership program.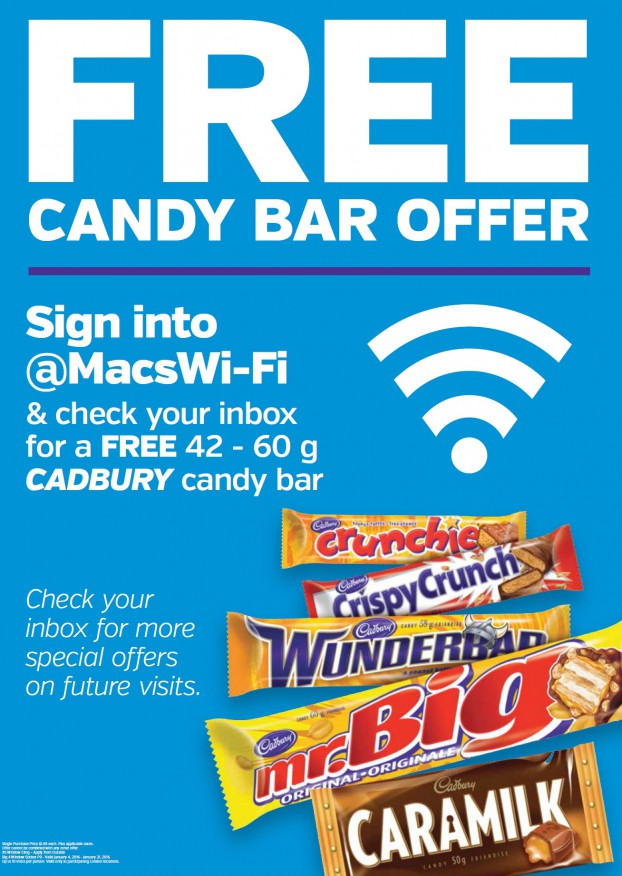 Mondelez International's first Shopper Futures program pilot project in Canada is under way, aiming to gain insight for its Cadbury brand when it comes to shopper behaviour in the convenience store setting.
Working with Toronto-based Turnstyle Solutions, the brand has implemented free Wi-Fi at participating Mac's convenience store locations in Ontario for the next three to four months. Once a shopper opts into the Wi-Fi, they'll be delivered certain offers from Cadbury, up to 10 during the month. As they return to the store, they'll be given new offers based on a variety of products in the Cadbury brand family (such as Crunchie, Mr. Big and Caramilk).
The pilot program is the first to come out of Mondelez's North American Shopper Futures program, announced last September. The idea is for the company to work with startups to not only pilot programs like the Mac's and Turnstyle implementation, but also foster more entrepreneurial learnings within the CPG co's walls, says Sofia Oliveira, senior brand manager for Cadbury Canada.
Cadbury is using signage within Mac's to drive people to opt into the Wi-Fi. Typically, people sign into Wi-Fi in longer dwell time environments, but the draw of offers on Cadbury products is meant to motivate people to use Mac's, says Ryan Freeman, senior director of partnerships at Turnstyle.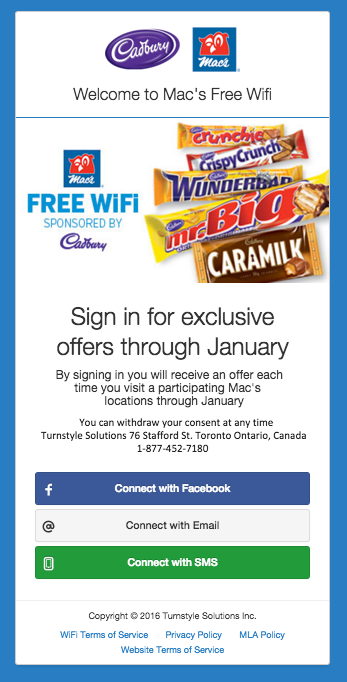 As users shop the store, both Mondelez and Mac's will be able to gain insights about shopper behaviour for more relevant targeting, Oliveira says. "Like us, they're getting an opportunity to be able to speak on a one-to-one basis with their consumers," she says of how the retailer will benefit.
In particular, the program is allowing the brand to gain insight at a granular level, looking into not only the convenience store environment, but how that varies among different locations and neighbourhoods.
"In the chocolate category, impulse is always key so partnering with a convenience store retailer really gave us the opportunity to understand that need state and how we can interact more with those consumers in the convenience type moment," she says.
In the U.S., Turnstyle is working with Mondelez's Swedish Fish candy brand on a similar initiative at QuickCheck convenience store locations in New Jersey.