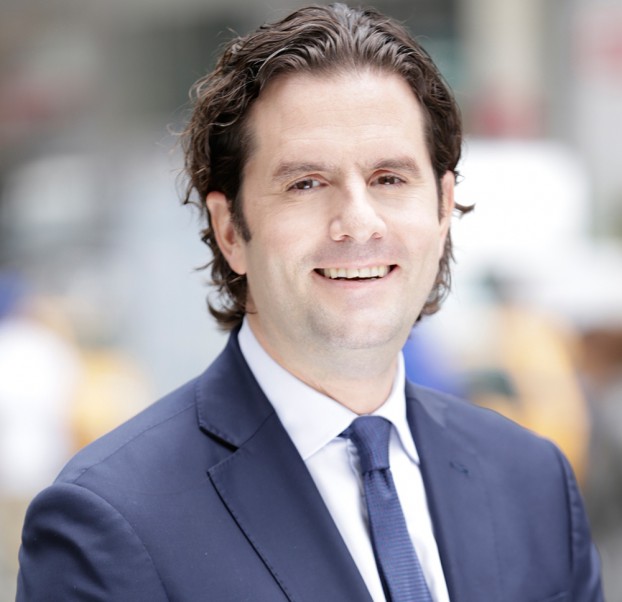 Carter Murray has held the global CEO position at FCB for the past two and a half years. The British expat, who came to the role from previous posts at Y&R and Publicis, was in Toronto earlier this week to speak at the ICA's FFWD Advertising and Marketing Week, along with Leo Burnett's global CCO Mark Tutssel and Publicis North America president and CEO Andrew Bruce. We caught up with Murray before he hopped on a flight back to New York, to talk about how he's evolving his agency for the digital age.
In your Ad Week talk, you mentioned a global digital task force you implemented at FCB, which includes Toronto CEO Tyler Turnbull. You said FCB was looking to reinvent the way it does digital. Can you tell me more about how it plans to do that?
When I arrived on the job, I found we were very advanced in a lot of areas compared to some agencies – like data analytics. In Chicago we have 50 data planners who sit next to 50 creative planners all together. [But] everything now is digital, and I didn't think that I'd have all the answers as a CEO. So I appointed five people – one is our global vice chairman, who wrote the best business plan I've ever seen in New Zealand, I then put our chief client officer, who's client-facing every day. Then our chief strategy officer, who's the biggest brain I know, and then two very fluent digital natives – one being Tyler. And I put them together and said, you've got six months to come up with a comprehensive plan of what disciplines every [one of the] top 12 agency must have, that are non-negotiable expertise. What are the centres of excellence [you need at each agency], and then the final piece of it is, define what our key digital partnerships are going to be – the Googles, the Facebooks – and how we're going to do them.
And they came back with an unbelievably clear plan, and a very actionable one, not based on big promises and presentations, but a workbook for every local office to go through, assessing where [each office is] with these disciplines, these capabilities and with these people. [The idea was] to provoke a full session for them to discuss where we need to do acquisitions, where we need talent, where we're strong, where we're not. So now we have a really clear road map of where we need to be.
How long did it take for that to come together?
My first six to 12 months on the job, I really focused on reorganizing the company, getting rid of the [siloed] regions and having the top 12 CEOs and CCOs report directly into me. And then I spent that time working on who are we, what do we stand for, where do we want to go and how do we focus on people and great work? As well as rebranding, and spending time with clients. That was a fairly intense 12 months. As I was coming toward the end of that, when I had the right people in place, I put that task force together.
The reason I didn't do it on my first day, is that I wanted to make sure we had the right talent in the centre and a clear structure. Because we were already digital, it wasn't that we were becoming digital. So I wanted to focus on each operation having the right people, the right plan, knowing that some of them already were advanced in digital and I didn't want to slow them down while reinventing it for the rest of the company. So the last 12 to 14 months we've been focusing on that digital [side].
Have you started to see changes and results from putting that structure in place?
One of the things that was already in place was using technology and digital in our creative and development. So even before I arrived, we had started to win at Cannes for ground-breaking, innovative work like the Nivea bracelet. As we focused on the transformation, I think we've accelerated the volume of that type of ground-breaking work. We win some awards in traditional media, but we win a lot for the integrated, technology categories.
Just bringing those five people together, getting to know each other and going through the exercise, has yielded results, because the learnings are much quicker than if I were to send out a memo saying "this is what we should be doing in digital." It's a much more modern, collaborative, relevant way to manage it than hiring a consultant, because when you hire a consultant, they come in, advise and leave and then you pick up the pieces. Whereas those five people went through a profound transformation, just by working with the [different] offices.
I think a lot of [the results] are intangibles, but if I look at our work, our new business track record – we won almost 200 business pitches last year across the world, we broke the top 10 in Cannes for the first time in our history, we've managed to recruit some unbelievable talent – I think all of that is not just from the digital transformation, but from the way we're working – that sort of collaborative, open approach.
In your Ad Week presentation, you touched on the issues clients face with managing data – either having it and not knowing what to do with it, or being behind in that area. What are you hearing from clients when it comes to data? 
Mark Tutssel said it best in the back room as we were preparing – if he started a data agency, he'd call it "Between the Lines." That sums up the client frustration and expectation, which is data has become a buzzword but it's really only useful when you can find genuine meaning in behaviour. Without that, data is just data and you don't get real value out of it. I think that's the biggest frustration for clients that have data. But then, "OK, I have the data, I have the agencies, but it's not really driving my business and my marketing." And that's because data in and of itself is nothing. [But] if it's used correctly, it can determine new products, new services, insights into human needs that need to be fulfilled. It can unlock a creative brief.
Unless we're using it to be more creative, to be bolder and take bigger risks, and gain better insights, it's a waste of time. Clients know data can change their worlds. The challenge is to find the intelligence in the data and extract the right things with your agency partner to be able to do that. And without it, data is useless.
What are your views on the Canadian ad market compared to others in the world?
For us, Canada is one of our top 10 markets in the world. So from a financial perspective and scale, it's important. It's at the heart of our company. In Canada, the scale of the market means core agencies have to reinvent to offer more services. They can't stand alone – you can't be a pure-play TV advertising agency here [there are some in America]. But I also think Canada is part of North America for most companies, and when you see the creativity, the technology, the mindset of Canada, there's lots of opportunities here to take risks, to be brave, to try out new models, but again it comes down to the talent. I was lucky enough to get Tim [Bowen] to run Canada and Tyler to run Toronto. What you do in Canada is not because of its size, it's dependent on the people you put in place.