Making consent seriously simple
Animated genitals help get Project Consent's message about sexual assault across.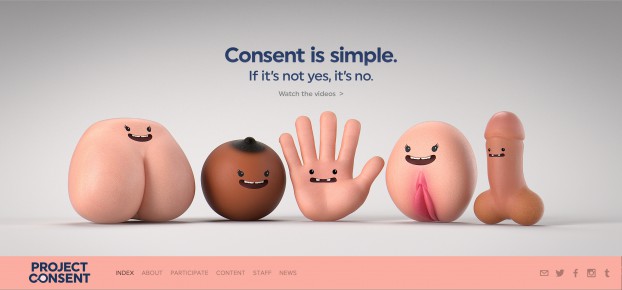 Project Consent has enlisted some eye-catching characters to lay down the very straightforward rules about consent to help prevent sexual assault.
Timed to launch with spring break season, when high alcohol consumption unfortunately leads to greater risk of sexual assault for students, the "Consent is Simple" campaign led by Juniper Park\TBWA features adorable (albeit graphic) animations of genitals, hands, breasts and buttocks. In online videos, the characters illustrate with minimal words that any of them coming together without both agreeing to it is never okay, communicating in the simplest terms the campaign's message: "if it's not yes, it's no."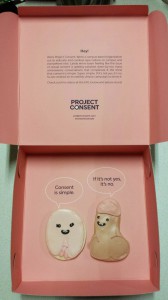 The three videos created for the campaign began rolling out today, as did a takeover of Project Consent's website and static images that will be pushed out through social channels. With no paid buy, the campaign is relying entirely on earned media to spread the posts and videos, though Project Consent will be reaching out to over 500 influencers (sending baked good shaped like the characters in the videos) to invite them to share the content. Partnerships have also been set up with publications including Affinity Magazine, Riot Grrl Magazine and Enchantress Magazine, as well as women's rights organizations including It's On Us, Ultra Violet and The Good Men Project.

"Consent is Simple" is Project Consent's second campaign following a poster campaign last summer. It's also Juniper Park/TBWA's first work with the organization, with the two coming together following the agency's work with YWCA.

Sara Li founded Project Consent in 2014 when she was still in high school, looking to speak to teenagers and young people about consent and rape culture in clear, simple terms. Li is based in Kansas, but the organization has staff and volunteers in several countries around the world, including Canada.

"I wanted to address what sexual assault is and the culture we live in, but I wanted to do it in a way that was more understandable for people my age," she says. "I didn't want to use terminology that academics or big organizations use, I just wanted to lay it out in a way a teenager who isn't involved with any kind of activism would understand, or to reach people who've never had to think about rape culture."

Terry Drummond, CCO at Juniper Park\TBWA, says the campaign was built around that idea of simplicity, cutting through discussions about sexual assault that too often focus on things like whether a victim was drunk, whether the perpetrator was "led on" or if a previous relationship existed between them.

"It's always made to be such a complicated conversation, with grey areas and he-said, she-said situations," Drummond says. "We really felt that we should wipe the slate clean and think about it simply and say it simply. It's cut and dry, yes or no, but you don't always feel that when you look at some of the messages around it."

There is some nuance in the campaign, though, such as that things like dancing together or laughing are not an invitation for sex. Each video also shows a slightly different situation, communicating that consent is also required for things like sexual touching or kinds of sex beyond what was initially agreed to.

"It's simple and addresses consent without dancing around the topic," Li says. "It makes it easier to talk about, like it should be, for students or teachers or parents. It should be approachable and direct and easy to see what is and isn't appropriate."

Drummond says the agency doesn't have a backup plan if the creative ends up getting flagged as inappropriate on social media or YouTube, but making the images graphic is a measured risk the agency is taking in order to be as direct as possible.

"If you look at other campaigns around consent, they tend to speak in analogies," he says, pointing to videos like "Consent Is Like Tea." "It's always saying it's like this other thing. But no, it's not about those other things. It's about sexual consent and these are the most relevant characters in that conversation, so why aren't we saying and showing what it is?"

Today, Project Consent will also be adding its voice to the monthly chat held by It's On Us, an initiative started by the White House to combat sexual assault. As part of the social push, Project Consent will be engaging directly on social media with those talking both about consent and partying during spring break.