Some Guy signs on with AutoTrader
A new campaign introduces an "everyman" spokesperson to show that expertise isn't needed to use the site.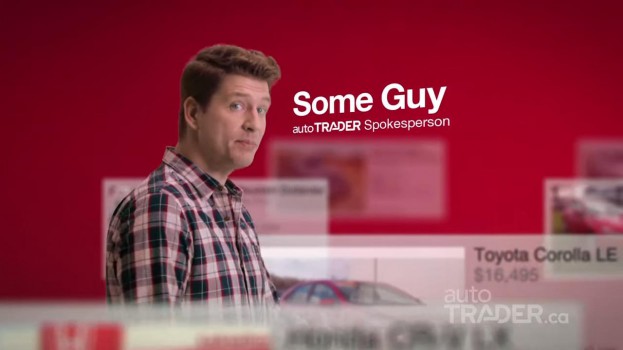 AutoTrader has introduced a new spokesperson to show Canadians that buying and selling on the site is so easy, even "some guy" can be the star of a campaign explaining how it works.

The first three videos in the campaign have launched, with the first introducing Canada to their new spokesperson – actually referred to as "Some Guy" – who explains that he is the perfect spokesperson for the site, since it makes finding the right vehicle so easy.

Two other spots (one focusing on hockey and the other on the fact that the site is free to use) also debuted last week. The spots are airing nationally on broadcast and specialty networks, as well as pre-roll on YouTube and a selection of other websites. Creative on the campaign was handled by AOR Co-Op. Offline media buying was handled by California's Ocean with the digital buy handled internally.

"It's all about making the process quicker and easier and doing it with more confidence," says Ian MacDonald, director of marketing at Trader Corporation. "The way we're trying to embody that is with this idea that, because we can empower anybody, that the right spokesperson is just the average Canadian. Not a car expert, not an internet expert, just a regular person."

The campaign is covering a broad target, looking to reach consumers in their early 20s to late 40s. MacDonald says the site has become "ubiquitious" with buying and selling cars over the last four years, with six million unique visits a month, but the "everyman" approach in its creative is, in part, to address some perception issues the site has seen in its research.

"Particularly in older or very young segments, they aren't too sure how [AutoTrader] works, or if it's for them if they aren't super familiar with online marketplaces or the automotive buying and selling process," MacDonald says. "So the campaign is trying to overcome any lingering perceptions that might be out there in some of those segments."

The full campaign, which will be rolling out through the rest of 2016, features 10 videos each in English and French. MacDonald says the remaining videos are being timed to coincide with new products and services the site has planned for launch and seasonal interests, as well as a few that foucs on non-automotive listings, like trailers, RVs and motorcycles.

MacDonald says that while this is the first time the company has conducted a campaign with this many pieces of unique creative, using effects-heavy work allowed all the spots to be shot on a single studio green screen, making it less expensive than it would have been to shoot on location.