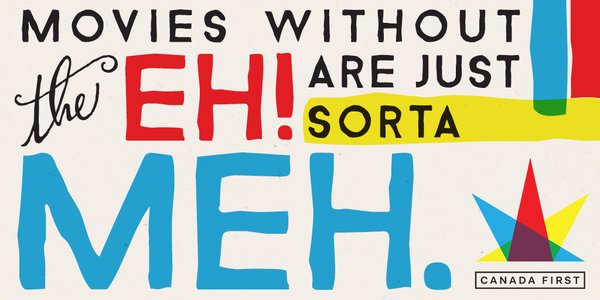 Canadians have a lot to be proud of, but a new marketing platform is hoping to connect us more with our legacy and our current role in the film and television industry.
Led by Telefilm Canada, the new Canada First initiative soft launched in late February ahead of the Academy Awards and has been growing its social media presence since then, including during the Canadian Screen Awards earlier this month.
In essence, the program is seeking to do for Canada's entertainment industry what "Own the Podium" has done for Olympic athletes, says Francesca Accinelli, director of national promotions and communications at Telefilm, which services the Canadian audiovisual industry.
On social media, particularly on Twitter, Canada First is sharing content related to the past and present of the Canadian entertainment industry (for example, tweeting about David Cronenberg's birthday or sharing a link to a Rachel McAdams' audition tape).
During the Oscars, it also shot a series of "Lucky Loonie" videos on the red carpet with Canadians like Room's Jacob Tremblay and documentary filmmaker and award winner Sharmeen Obaid-Chinoy.
26 Canucks up for #Oscars tonight & the #LuckyLoonie will be there! We asked a few nominees to make it even luckier.https://t.co/tHZnyoJr3e

— Canada First (@Canada_First) February 28, 2016
The idea behind Canada First is to get Canadians (not just industry insiders) to recognize that many of the productions they already watch are in fact Canadian and to discover new content, Accinelli says.
Canada First was developed by Toronto agency The Hive, which won the business after a competitive pitch involving 10 agencies.
Though it's a Telefilm initiative, Canada First is also meant to be a program that the entire audiovisual industry can participate in, and the organization has been consulting with other groups such as the Alliance of Canadian Cinema, Television and Radio Artists (ACTRA), the Canada Media Fund (CMF) and the Canadian Media Production Association (CMPA).
"We don't have one central place to go and find information," Accinelli says. Often, the Canadian audiovisual industry is very "inside baseball," and doesn't do the best job of promoting work as Canadian to average consumers, she says.
The program has included some paid social media support, and since launching, the Twitter account is already up to nearly 4,000 followers.
Later this spring, the organization will launch a dedicated YouTube channel with original content supporting Canada First and driving to EyeonCanada.ca, a hub for Canadian content launched last year by Telefilm, the CMF and the CMPA. Content on the channel will be similar to some segments on shows like The Late Late Show with James Corden, to showcase talent in a fun way, Accinelli says.
Canada First may later extend to traditional broadcast and print but for now, it's primarily digital, aiming to capture the attention of millennial audiences, a demographic  Accinelli calls "super consumers" who are most eager to learn new things first.
Telefilm will soon be issuing an RFP for original production work to be included on the YouTube channel, Accinelli says.