Shopper Innovation Awards: Boston Pizza ups the loyalty ante
The restaurant brand's MyBP app allowed for stronger relationships with customers.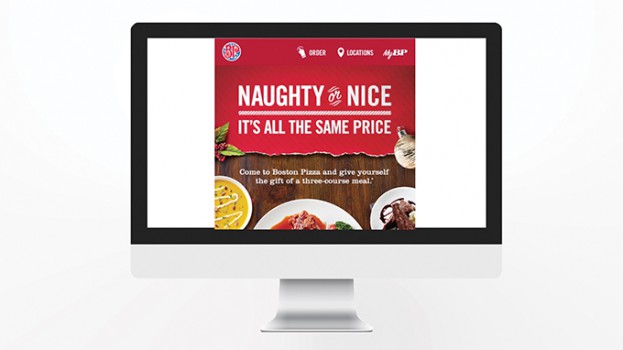 This story appears in the April/May 2016 issue of strategy.
Silver: CRM & Loyalty
To increase brand loyalty, Boston Pizza and agency ICF Olson created MyBP, a digital ecosystem that allows the restaurant to develop and manage ongoing relationships with its customers.
The team created the MyBP app, which can be used across desktop, mobile and the restaurant's in-store POS system. The platform allows service staff to extend and manage offers from the restaurant. The app is also connected to the on-premise POS system, providing easy redemption of offers and discounts when diners pay for their meals.
In addition, the team developed a Connected Customer Service Portal, which works in tandem with the MyBP program and allows Boston Pizza's support staff to resolve customer issues.
Since its launch, MyBP has generated more than $17 million in associated revenue and attracted more than 275,000 new customers. There have been nearly 100,000 MyBP app downloads, and MyBP orders now account for 52% of online net sales. All of this was achieved without a national media buy.
Credits
Advertiser | Boston Pizza
Agency | ICF Olson
Account director | Daniel Welch
Account manager | Lauren Moore
VP technology | Gordon Tam
Technical director | Gordon Turner
Senior developer | Julien Lu
CD | Geoff Lee
AD | Yaga Kielb
Senior CW | Stephen Sinisi
VP production | Pralad Rao
Project manager | James Manson
QA manager | Jason Gao
QA analyst | Fred Pakkala