Shopper Marketing Forum: Highlights from day one
A house doesn't make a home, and other key takeaways from yesterday's event.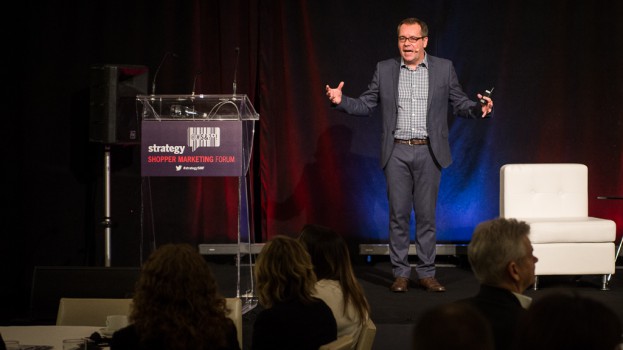 Pictured: Nielsen's Carman Allison presents at the Shopper Marketing Forum on April 19. (Photo: Matt Forsythe)
Yesterday, Canada's CPG and shopper marketing community came together during the first day of strategy's Shopper Marketing Forum to hear about the latest insights on retail reinvention, consumer behaviour and how brands can keep up with fast-evolving tech. Here are just a few key takeaways from day one. Be sure to check back for more coverage from day two of the event.
A house doesn't make a home
When Sport Chek embarked on its digital renewal plan around 2011, it knew that digital would have to be one way to bring a larger cultural transformation to life. Frederick Lecoq, SVP of marketing at parent company FGL Sports, says he asked, "If Sport Chek were to disappear tomorrow, what would Canadians miss most?"
To put it another way, why would someone hop in their car and come to a store when they can get what they need online?
In the retailer's case, that meant moving from being a transactionally-driven "house of sports" to a home of sports, Lecoq says.
Previously, it had been a multi-specialist, "Swiss knife" kind of retailer that didn't really stand for something, he says. Now it's been using digital as one way to make itself a home for Canadians and move from being a point of sale to a point of experience, he says.
But the larger goal goes beyond creating digital-focused concept stores like its flagship at the West Edmonton Mall. For example, all of its staff need to be the right cultural fit (in other words, live and breathe sports).
Using relevant microcontent to create "snackable" moments for customers all year (outside of just mass advertising campaigns) has also been a strategy, and the brand uses community managers in every store to engage with the local community. "Test, fail and learn," Lecoq says.
Simply put, a good experience also makes more money. Lecoq looks at his business the same way he would a coffee business: some people will pay significantly more for a coffee made from the same beans as a $1 cup that does the job of waking you up in the morning because of the experience.
As Lecoq puts it, mass personalized retail doesn't have to be an oxymoron.
The centre of the store is no longer ignored
The past several years have seen a resurgence of "fresh," with retailers like Whole Foods and Walmart upping their game on produce and experiential bakery aisles, says Stewart Samuel, program director at IGD Services Canada. Many retailers are even going head-to-head with traditional QSR and food service brands by creating experiences like in-store diners and even food truck-inspired counters.
But now, reinventing the centre of the store is also a priority, he says.
Navigation is particularly important for big box stores that sell multiple categories, Samuel says. He points to Walmart as an example of a massive retailer that has used design to improve sightlines and "visual access" across its stores, while also making categories easy for consumers to understand. For example, it used signage and displays in its electronics department to help explain various networking equipment and technology for smart homes.
Some retailers are also "adding theatre" to improve the centre of stores, he says. Croatian supermarket chain Konzum, for example, has revamped the look of its frozen food aisle, making it visually easier to find categories within frozen, which traditionally has just included long aisles without much creative signage. It's done the same for the pet supplies aisle.
Food prices, the economy top concerns for consumers
Unsurprising to those of us who were recently outraged by $8 cauliflower, food prices are a top concern for Canadians,says Carman Allison, VP of consumer insights at Nielsen. Food prices are the number three concern for Canadians overall (after the economy and debt), but among women it takes the top spot.

Overall, 59% of Canadians say they're trying to reduce household expenses, while 27% say they're worse off financially than they were a year ago. Seventeen percent also say they have no spare cash (in other words, they live paycheque to paycheque).

It shouldn't be a surprise, then, that many consumers remain focused on value. In terms of how consumers use promotions, 87% say they "stock up," 70% buy only on sale and 58% use coupons.

When it comes to shopping behaviour, 64% switch stores (including going outside traditional CPG stores), 51% use loyalty points, and 44% use price matching. Meanwhile, in terms of selection, 57% buy larger sizes to save and 54% say they buy store brands.

Despite a seeming focus on thriftiness, Nielsen notes that there has been a pick-up in dollar sales since the recession, although the number of shopping trips is down.

The research firm also forecasts 4% to 5% growth for dollar spend and 0.5% to 1% growth for unit sales in 2016.

Focusing on promotion effectiveness will be key for retailers looking to avoid price wars, Allison says.