Air Canada creates novice maestros
A cross-country interactive installation aims to show the brand's support for the arts community.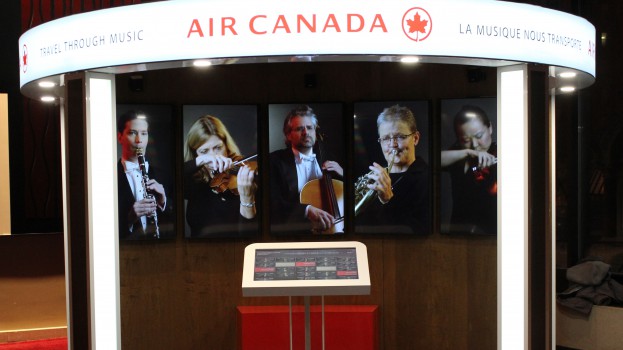 Consumers with a secret wish to conduct their own orchestra might just have their chance.
Air Canada has developed a cross-Canada experiential activation and online campaign that allows users to create their own symphonies, while promoting the airline's support for eight different orchestras across the country (Vancouver Symphony Orchestra, Calgary Philharmonic Orchestra, Edmonton Symphony Orchestra, Winnipeg Symphony Orchestra, Toronto Symphony Orchestra, National Arts Centre in Ottawa, Orchestre Symphonique de Montréal and Symphony Nova Scotia in Halifax).
Led by J. Walter Thompson in Montreal, "Travel through Music" includes physical installations in the halls of the various orchestra partners. Symphony-goers can use a touchscreen to select from 24 individual artists across the country and create their own personal orchestra to play specific compositions of music. Air Canada conducted individual recording sessions with each of the 24 artists to allow users to create their own unique combinations (with 6,500 available combinations for each composition).
"Essentially, patrons are becoming the maestro of their own orchestra," says Jean Saad, sponsorhip manager at Air Canada. The brand specifically wanted to use gamification to engage consumers on-site, he adds.
After creating their personal piece of music, they can send it to friends via email or post on social media or SoundCloud.
The physical experience has already been brought to its partners in Western Canada, with the others to host the installation this month and in June, and then in the fall when the symphony season begins again.
Air Canada has also extended the campaign to a microsite and mobile app, where those who can't attend the physical installations can still have their shot at being a maestro.
It's also supporting the activation with a "making-of" video of the experience shared on its own social media channels, as well as through its symphony partners' accounts.
The idea is to create visibility around Air Canada's sponsorship and support for the arts, Saad says. For their part, the symphonies are also able to engage younger patrons (especially given the educational component of the installation, which teaches consumers about instruments, for example) and boost the profiles of their individual musicians.
The installation is part of Air Canada's "Connecting Musicians" online video content featuring musicians from the eight organizations it supports.
The brand worked with Mindshare on media, Montreal's Space & Dream to create the app and DT 2.0 in Montreal on the installation itself.