AToMiC Awards: In the moment
These cause campaigns demanded immediate action, and provided instant gratification to donors.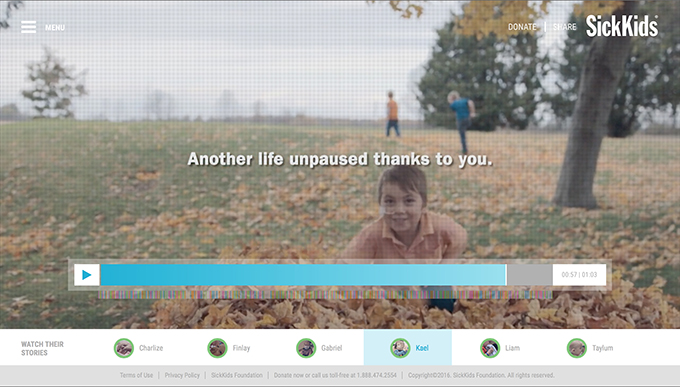 This article appears in the June 2016 issue of strategy.
For charities, winning a potential donor's interest is one thing; sustaining it long enough to secure a donation – as devices blink and vibrate with fresh distractions – is another.
Two campaigns got around this problem by offering immediate satisfaction in exchange for instant action. The SickKids Foundation's "Life Unpaused" campaign by Cossette used the metaphor of a hospitalized child's life being on pause – away from school, friends and hobbies. It built on the 2014 "Better Tomorrows" campaign, which used daily videos to introduce dozens of children being treated at the Toronto hospital and create immediacy for donors. Viewers of the "Life Unpaused" spots could witness the progress of six children featured in the prior series, but the new videos paused partway through. A donation unpaused them.
"Life Unpaused" led to 370% more online donations than the previous year, making it the foundation's most successful digital campaign.
"The Window Project," FCB's campaign for the Ontario Association of Interval and Transition Houses (OAITH) and Yellow Brick House, a shelter for homeless and battered women, used a similar method, though its use of contrast made it more jarring.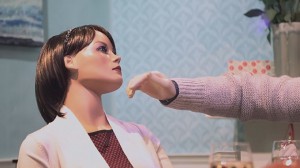 During the holidays, as festive displays filled commercial window spaces in downtown Toronto, the organizations created what looked like a typical family Christmas scene with a tree, dinner table and mannequins in sweaters. That is until the father suddenly slaps the mother and the kids cover their faces in fear. The window display allowed the organizations to bring domestic violence, which often takes place out of sight, into the open. And those horrified viewers on the street could make it stop for 60 seconds with a text donation.
The campaign received international media coverage, leading to more than 75 million earned impressions.
While SickKids enticed donors with the reward of seeing what their donations helped yield (seeing Kael, a child born with a rare immune disorder, for example, play outside with friends a year later), "The Window Project" offered an immediate reprieve from the violence the organizations were highlighting. Both campaigns recognized something about attention spans, and even empathy: they're hard to sustain.
Phillip Haid, co-founder and CEO of social cause agency Public, says organizations traditionally created broad awareness for their cause in order to "prime the pump," but now they're finding ways to drive action sooner. "Just to create awareness for social issues is not enough anymore," he says. "You're much better off getting your target consumer audience to do something, because if you can get them to take an action, the likelihood that they'll be more aware is much higher."
The hardware
SickKids Foundation "Life Unpaused" Cossette Gold Best Digital Engagement, Silver Cause and Action
Ontario Association of Interval and Transition Houses and Yellow Brick House "The Window Project" FCB Toronto Bronze AToMiC Engagement