Bringing business class to life
Vancouver's Thinkingbox helps United Airlines bring a plane (which is not yet in the air) to its customers.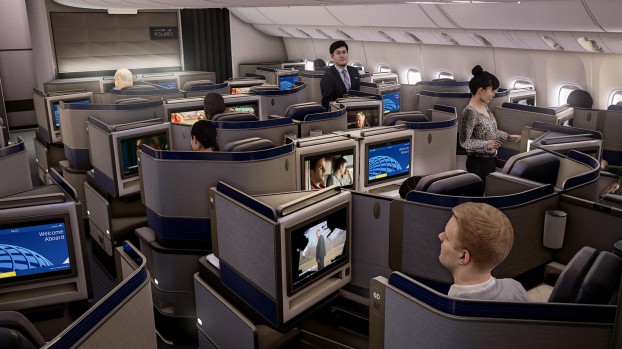 For Troy Graham, ECD at Vancouver's Thinkingbox, virtual reality is all about providing presence that couldn't necessarily be experienced elsewhere.

That could be a rollercoaster ride when you're nowhere near an amusement park or bringing the average person into a desolate camp to experience some of what real refugees are seeing.

With so much pick-up of VR in the entertainment and ad industries, it's still a special medium and deserves to be used for the right reasons, to provide an experience people otherwise may not get, Graham says.

In the case of the studio's recent project with United Airlines, that meant bringing consumers onto a plane that's not yet built.

The American airline was set to introduce its new high-end Polaris Business Class, its biggest product innovation in more than a decade. The official launch, though, isn't until December, when the Boeing planes equipped with the newly-designed cabins will be ready for flight.

Still, the timing of the launch to build anticipation was important, says Daniel Cuellar, senior manager, onboard product development at United. It needed to be ahead of the fall – overtaken by U.S. election news – and the winter holiday season.

The brand did have the new seat design and other features of its lounge and plane cabin available in a ballroom setting, but it wanted to show off the new design in a more immersive way, prompting it to turn to Thinkingbox to bring the concept to life more fully with an experience using Oculus Rift headsets.

The biggest challenge came down to data, Cuellar says. During the months-long process, United turned to Boeing and design firm PriestmanGoode for complete specifics around the aircraft's design, from engineering drawings to fabrics, to make the VR experience accurate to the real-life one. To help the process along, Thinkingbox set Cuellar up with his own headset in his Chicago office to test its concepts from Vancouver in real-time, he notes.

The finished experience – including narration by actor Matt Damon – used 3D assets built to spec from Boeing's renders and characters made by filming real United employees and compositing that into the environment, along with additional animated characters using motion-capture technology.

The VR experience debuted in June in New York City at an event targeted to United's top business class customers and is now travelling to various travel conventions and trade shows. A 360-degree virtual tour video is also being shared on social media, while the airline is working on getting Google Cardboards into the hands of its salesforce to make the VR experience more accessible.

Apart from immersing customers into Polaris, the experience has also been a unique training tool for United's 26,000 flight attendants to understand the new setting, Cuellar adds.