Roots strikes a different chord
The latest "#sweatstyle" campaign adds more digital and experiential elements as the brand maintains its support of Canadian musicians.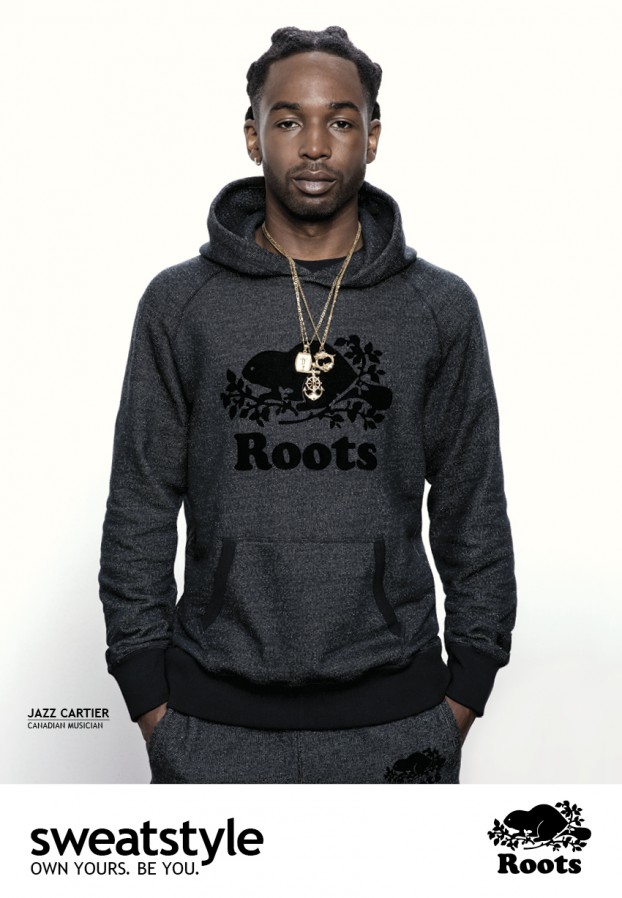 Roots has amped up the digital side of its latest "#sweatstyle" campaign, focused on bringing Canadian musicians together with the brand's trademark casual-wear.
This year's campaign, much like last year, features artists representing a range of different genres and Canadian cities: up-and-coming hip-hop artist Jazz Cartier, pop singer Tyler Shaw, singer-songwriter Scott Helman, YouTube star Ruth B, indie-electronic duo Humans, country songwriter Meghan Patrick and French-Canadian singer Charlotte Cardin. The creative for the campaign is centred around photos of the artists, using Roots' iconic sweatshirts and sweatpants to show off how the pieces fit into their own personal sense of style.
The photography will be utilized in social, print, out-of-home and in digital channels, as well as in store windows at 109 locations in Canada and five in the U.S. Similar displays will come to 130 Roots stores in Asia later this fall.
The campaign was handled by an in-house team at Roots. The company worked with record labels Sony Music Canada, Warner Music Canada, Universal Music Canada and Dine Alone Records, as well as with audio production house Cult Nation.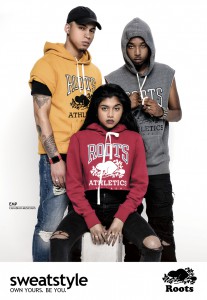 This is the fourth year Roots has run the "#sweatstyle" campaign – which began with its 40th anniversary in 2013 – but the second year it has focused exclusively on Canadian musicians. James Connell, VP of ecommerce and marketing at Roots, says last year's campaign showed the brand that musicians are especially well-suited to the goals and message of "#sweatstyle."

"Our approach is to position our basic, iconic pieces as parts of a look you can personalize and self identify and present your own style," he says. "It's something that has been successful in the past, but last year, music really hit home on a number of levels for our customer. I think it's because music is so personal to an individual and every genre conveys its own sense of style, which fits well into the fashion space as well."

While last year's campaign had online videos featuring interviews with the artists, the big addition to this year's campaign is a bulked-up digital execution that Connell expects to be much more engaging. Many of the featured artists will also be in digital verticals on Vice properties, as well as ads on Spotify, where the retailer has crafted a custom playlist compiling songs from the artists, so those who aren't familiar can learn more about their sound. Throughout the campaign, Roots locations in Vancouver, Montreal, Toronto and Venice Beach, California will be hosting in-store performances, which will also be streamed on Facebook Live.

"Those elements really help engage our consumers on more of a social level," Connell says, adding that Roots is not only looking to engage customers with its brand, but the Canadian artists it supports. "It's almost like we're creating a social media tool kit that we then give to our customers who are fans of those artists so they can share and help promote the music, and Canadian culture as a whole."

When it comes to on-the-ground executions, Connell says Roots hasn't done experiential efforts on a national scale like this before. The experiential side of the campaign also includes life-size standees of the musicians, decked out in Roots gear, which will be deployed in several cities.

"That's a result of seeing a lot of customers coming in during last year's campaign and taking pictures of themselves with the posters," Connell says. "By expanding the scope of the campaign, we can engage our customers into doing something that is more than just coming in and buying some sweatpants. It's also engaging them with the culture of the company."