Scotties adds coffee to the package
The Kruger brand partnered with Tim Hortons and receipt-reading tech Snipp in a back-to-school promo.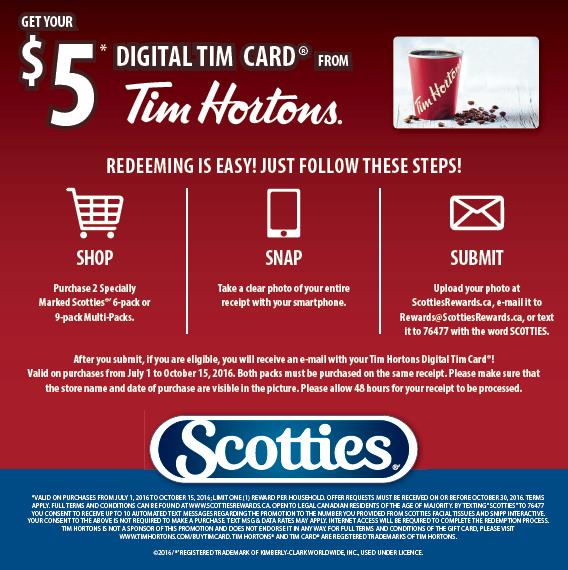 Tissue brand Scotties is aiming to help parents get back into the swing of the school year with a new promotional partnership with Tim Hortons.
For a Scotties six and nine-box multi-pack in-store promotion, the Kruger Products brand is offering customers a $5 Tim Hortons e-gift card, a strategy it's employing to stand out on shelf during the busy back-to-school period.
If customers purchase two of the multi-packs, they can text, e-mail or go online to receive their $5 Tim Hortons e-gift card.
To make the redemption experience easier, the brand and agency partner Fuse Marketing employed Snipp, receipt-reading tech that makes getting the gift card more convenient. After scanning their receipt and having it verified by Snipp, they can receive the gift card instantly and redeem it through Tim Hortons' TimmyMe mobile app or print it to use in the QSR.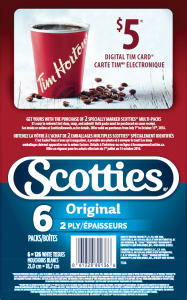 The partnership with Tim Hortons (a first for Scotties) was a natural fit, given both of their positioning as top Canadian brands, says Oliver Bukvic, category director for facial tissue at Kruger Products. Scotties holds the number one position in the facial tissue category in Canada.
The packaging itself and in-pack inserts are promoting the deal to customers in grocery, drugstore and mass merchandise locations.
The promotion began in early July, when the multi-packs began hitting shelves and it will run until mid-October.
The back-to-school period is an important one for Scotties, since many schools require students to bring their own tissues and parents will typically stock up while shopping, Bukvic says.
In previous years, Scotties has used mail-in offers as a tactic, but this is the first time its employed Snipp, he says. While it's too early for redemption results, the instant-redemption approach is proving effective, he says.
For its part, Snipp has worked on purchase promotions with various brands including Kraft, Burger King, Canadian Tire, Clorox, P&G and Wrigley.