Brands share in the love of Fan Expo
How Lego and Toys "R" Us are tapping into fans' passion at the comic and pop culture convention.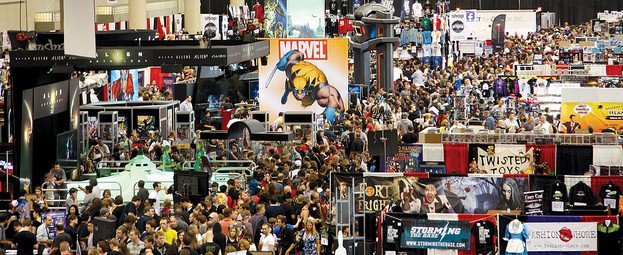 Fan Expo Canada is one of the largest conventions of its kind, bringing thousands of lovers of comic books, sci-fi, video games and other areas of pop culture to Toronto over the Labour Day weekend.
That means it's also a prime opportunity for the brands that create merchandise based on the most popular pop culture properties to interact one-on-one with their passionate fans. Here's how two brands are planning to capitalize on the crowds.
Lego
Tie-ins to pop culture franchises have been a big draw for Lego fans for decades, one of the most popular among them being Star Wars.
At Fan Expo, visitors to the Lego booth not only have the chance to participate in a workshop with Dan Steininger – one of only eight Lego "Master Builders" in the world – they can also help build a never-before-seen Lego Modeal of K-2S0, a violent and dry-witted droid character from the upcoming film Rogue One: A Star Wars Story.
When it's finished and revealed on the last day of the convention, the model will stand at 10 feet tall.
Fans will also be able to see models based on the Lego Batman, Marvel, D.C. Comics and Ninjago franchises, or build a shelter to defend the Lego Minecraft village from mobs of enemies trying to tear it down.
"Fans love seeing their favourite characters from popular Lego franchises all in one place and brought to life in amazing ways," said Amanda Santoro, senior brand relations manager for Lego, in a press release.
Toys "R" Us
One of the main draws of conventions like Fan Expo when they were created was the ability for collectors to meet in one place to buy, sell and trade their hard-to-find merchandise. Toys "R" Us is embracing the commerce side of the expo by teaming up with a number of its brand partners to offer exclusive products and experiences.

With Hasbro, the retailer has helped to set up a 2,500 sq. ft. space to buy exclusive Transformers, My Little Pony, Marvel and Star Wars products that will only be available in Canada at Fan Expo.

With Mattel, a Mega Bloks exhibit shows off the brand's latest toy sets in all their glory, and visitors can receive a special card to buy the sets at a Toys"R"Us store (if they are patient enough to not buy it on-site).

And with Nickelodeon, the "#TMNTEvolution" booth not only features displays of Teenage Mutant Ninja Turtles characters and access to limited edition toys and discount offers on products in Toys "R" Us stores, but also a seven foot rack of the iconic weapons the heroes of the franchise are known for (and are sure to please the parents who pop in).

In addition, the retailer has brought their 12-year-old "chief play officer" Émile Burbidge to the convention, where he will be hosting Facebook Live streams featuring him navigating the crowds and demonstrating some of the products in the convention centre.