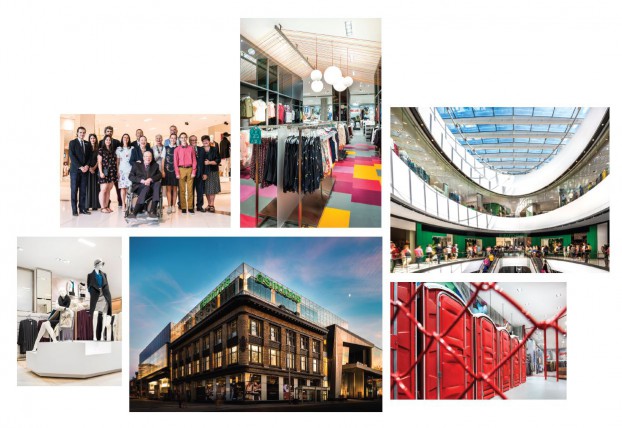 It's that time again. We're rolling out our 2016 Brands of the Year, so make sure to check back during this week as we take a look at the brands that had a big impact on Canada this year.
This article appears in the October 2016 issue of strategy.
Even when you've been around since 1840, you can't assume everyone knows you.
It's a lesson the team at Quebec City-based retailer La Maison Simons has learned as its expands. Despite its long history in La belle province, the brand is still a bit of an underdog in to the rest of the country.
"In Quebec, we've been in market for 176 years," says Philippe Normand, Simons' VP marketing. "People know us so we never had to talk about ourselves."
In its home province, the retailer enjoys a brand awareness level well above 90%, plus high scores when it comes to credibility, he says. Nine of its 12 stores are in the province, as are the majority of its staff, with a corporate office of around 500 employees. Quebecers know and trust the brand for its high level of service and broad product assortment.
But lately it's had to make sure other Canadians know that too, as it continues its $200 million expansion plan, sparked by it reaching a point where it could replicate its success in Quebec nationally and economies of scale would allow it to grow, Normand says.
While the retailer has shipped nationally for the past several years, Simons' physical expansion in English Canada started in 2012 with a location in Edmonton. That store became a testing ground for Simons' expansion in English Canada, a starting point for learning about differences in consumer behaviour and assortment needs.
Those learnings are still underway as more stores open up. Most recently, the brand has emerged in Vancouver, Mississauga and Ottawa. It also added a location in Gatineau, Que. The plan is to add a second Edmonton store and one in Calgary next year, another in Scarborough in 2018 and one at Toronto's Yorkdale Shopping Centre the following year, bringing the retailer's total store count to 16 across Canada.
Venturing outside its home province meant establishing its unique position and ensuring consumers understand it, Normand says. For Simons, that's meant explaining its broad spectrum of offerings, from more "fast fashion"-type pieces to high-end clothing, along with a home collection featuring exclusive merchandise and a more fashionoriented approach than competitors, Normand says (in August, it also added an online-only home decor section to its offering to beef up that aspect of its business).
Taking a consumer-led go-to-market approach with its private labels has been one way Simons differentiates from other retailers, he says.
Unlike traditional department stores shaped by brands (for example, having a Burberry "shop" within a store), Simons has merchandise sections and collections, comprised of private label and global brands aimed at certain key demos. "We purposely decided it's not the brand driving the consumers but it's the consumer driving himself," Normand says.
The Twik section, for example, includes merchandise aimed at young millennial women and teens. Icône, meanwhile, is targeted at the young "urban chic" woman, with Contemporaine for professional women. The same strategy is employed on the men's side with the Le 31 and Djab collections.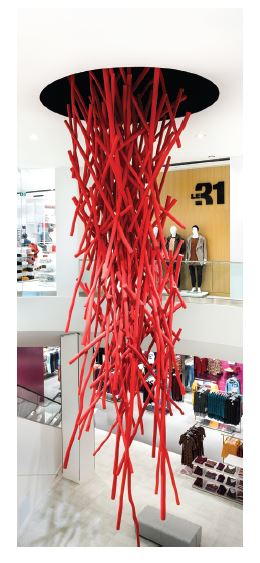 When expanding, Simons had the twofold task of introducing its brand to new customers and explaining its offering. It expected brand awareness in English Canada, particularly on the West Coast, to be
low. As part of its strategy, Simons employed what Normand says was its first investment into consumer marketing research to find out exactly how low it was.
In the Greater Toronto Area, it was even lower than expected, prompting it to shift more investment into marketing there.
Working with its agency partner Cossette, Simons debuted an awareness campaign ahead of its opening at Square One in Mississauga, by far its largest campaign, Normand says (two more stores set to open in the next couple of years are also in the Toronto market).
Essentially, it was a "Simons 101″ campaign, says Louis Duchesne, EVP and managing director of Cossette in Quebec.
To build up what it stands for, Cossette leveraged Simons' signature green colour and leaf logo, and its private collections in its advertising. The idea was to use that signature look to stand out and differentiate Simons from the competition, while drawing attention to how broad its offerings are, with advertising focused on its eight private labels and 48 international designers and positioning it as the go-to for building a complete wardrobe, Normand says.
The retailer also worked with Cossette to create its first CRM and loyalty rewards program, called The Simons, launched in May 2015. While Simons doesn't disclose specifi c fi gures, within a year membership was close to a million shoppers, Normand says.
As a result, it's driving sales in areas that weren't familiar with the brand, he says.
Vancouver, where brand awareness is around 30% to 40%, has one of the highest percentages of sales coming through the program and the retailer is seeing similar results in Mississauga. In the past year, the marketing team has undergone what Normand says was a major overhaul. Normand himself joined in November as the retailer's fi rst VP marketing and since then, the team has grown significantly, he says.
The change also meant bringing the web team under marketing, adding it to the mass media team and bringing in visual merchandising, part of Simons' plan to deliver what Normand calls a "seamless" experience among in-store, online and mobile.
It also brought some of its work that was previously done by external agencies in-house, including social media (it now has its own community managers) and writers. Online has been important for the brand, with roughly 10% of its sales driven through e-commerce and sales growing 60% annually, with plans to invest more in both online marketing and internal infrastructure, Normand says.
For him, "omnichannel" isn't really even the right term. "Consumers don't even see channels," he says. "I would say we went from a marketing channel strategy to a marketing content strategy."
For example, Simons uses content to introduce new product lines in unique ways. Most recently, it partnered with French brand Port Franc – whose goods are produced by local, independent brands – to bring an entire shipment from Europe to Canada in a sailboat powered by wind, and capturing the experience in an online video.
That experiment speaks to another new pillar for the retailer, driven by the Simons family, now in its fifth generation since the first store was founded: environmentalism.
To keep the supply chain carbon-neutral after receiving the shipment from Port Franc, Simons used electric cars to bring it to its distribution warehouse. The environmental focus is especially important given that the clothing manufacturing industry is the second "dirtiest" in the world, next to petroleum, Normand says.
In February, Simons announced that its Galeries de la Capitale location in Quebec City would be the testing area for its "next generation" store, an eco-focused space with the goal of having a net zero carbon footprint. The move is a $50 million investment for the retailer, but one supported personally by the Simons family.
Going forward, Simons also hopes to make its actual merchandise more eco-friendly by investing more in organic cotton and viscose derived from non-endangered forests, Normand says. Paving the way to a greener fashion industry is no small task. But it's still one that Simons is keen to take on as it continues its cross-country journey.