Strategy Awards 2016 shortlists: Part Five
We're rolling out all the contenders leading up to tomorrow's gala. Today, we feature the Launch and Niche Strategy categories.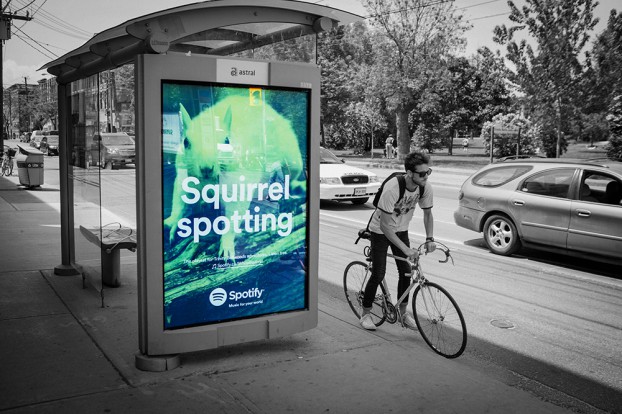 As the inaugural Strategy Awards approach, we're showing some of the shortlisted work by category. The awards will be handed out Nov. 8 as part of our Agency of the Year gala in Toronto. And in case you missed them, check out Part 1 (Turnaround Strategy), Part 2 (Connection Strategy), Part 3 (Cause/Public Service) and Part 4 (Evolution Strategy) of the shortlist series.
Category: Launch Strategy
Bronze – Spotify spots music-friendly neighbourhoods
In late 2014, Spotify was finalizing its plans to enter Canada. Research revealed that most Canadians were unfamiliar with the music streaming category, let alone Spotify.
Subscribers of other streaming services already had established preferences and behaviours. There was also a high degree of consumer inertia: even if a consumer was dissatisfied with their current streaming service, trial (let alone a permanent change) was considered just too great a hassle.
Spotify's objective was to introduce itself to Canadians and win users by showing that it knows how music fits into their lives.
Research showed that music is transformative and that it had the ability to change a person's experience of the world around them, help them focus, tune out or feel better.
Through the platform, Spotify identified what each of its users was listening to, when they were listening, how often and where (right down to the neighbourhood). From student hangouts to financial centres to hipster enclaves, Spotify and Anomaly mapped listening habits to create the "Music For Your World" campaign, which held a mirror to people's lives.
Thirty-plus playlists were created to match Canada's highest-streaming neighbourhoods, based on the actual music being listened to by the people who live there, including the most streamed and the most distinctive tracks.
The campaign increased daily registration to Spotify by 21% and moved the app from #3 to #1 (among music streaming apps) in app store downloads across both iOS and Android. The campaign also delivered a 20% increase in brand awareness (from 38% to 58%) versus the previous period and generated over 30 million impressions nationally.
Credits
Advertiser: Spotify Canada
Agency: Anomaly
Strategist: Jon Daly
Partner: Franke Rodriguez
Executive CDs: Pete Breton, Dave Douglass
AD: Rich Brown
Copywriter: Matthew Donne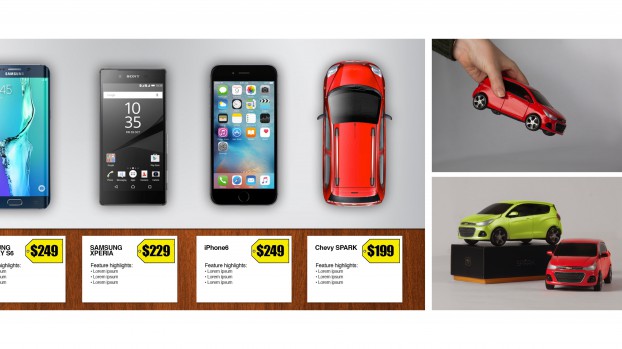 Bronze – Chevrolet's techy car sparks interest
In 2015, the automotive category was beginning to emerge from a years-long slump, with millennials starting to purchase cars. However, research also revealed that this growth was happening mostly among suburban millennials. Young urbanites remained resolutely uninterested in cars.
Chevrolet and McCann Canada developed a deeper understanding of millennials, doing a full contextual analysis and examining how they felt about technology. Mobile technology was a consistent topic of interest among millennials, and research showed they wanted to talk to their cars, just like they talk to Siri.
With this insight, Chevrolet decided to focus on the Spark model's advanced technology and promote the vehicle as if it were a new smartphone.
The brand launched an online, social and traditional media teaser campaign, with a countdown in the form of a giant box placed in high-traffic mall locations across the country. The box looked like the packaging for a new smartphone. Chevrolet also worked with Canadian tech celebrities and bloggers to host a public "unboxing" live-streamed on YouTube and Periscope.
Once the secret was out, the brand encouraged people to try the Spark's Apple CarPlay and Android Auto, and experience why Spark is "The Ultimate Mobile Device." It also parked a Spark vehicle amongst the smartphones inside a Best Buy store.
The campaign generated almost 250,000 website views, and #SparkMobile trended on Twitter, exceeded only by #DonaldTrump.
Vehicle sales significantly over indexed against aggressive forecasts – 22% ahead of the goal.
Credits
Advertiser: Chevrolet
Advertising Agency: McCann Canada
CCO: Darren Clarke
ECD: Josh Haupert
CDs: Dave Stubbs, Duncan Porter
AD: Justin Turco
CW: Jill Mack
Category: Niche Strategy

Silver – Penningtons takes on fat-shaming
Being overweight has a serious social stigma. Many plus-size Canadians suffer from low self-esteem triggered by an environment that constantly reinforces a negative perception in both direct and subtle ways.
People often perceive plus-size women as fat people who eat too much junk food and who don't tend to move much. Penningtons aims to offer fashion products that make plus-size women feel their best, so to break the stigma, it made people aware of how heavily their fat-shaming words, gestures, looks and thoughts weigh on plus-size people's self-esteem.
The brand and Lg2 used a clickbait-approach, creating a video entitled "Why Plus-Size Women Shouldn't Do Yoga."
Inspired by online conversations revealing the widespread prejudice that plus-size women are overweight because they are not active, the offensive took the form of a one-of-a-kind yoga video.
It featured a bad-ass plus-size yogi who deconstructs the prejudice shot by shot, before urging women to not compromise and to practice whatever activities they want without fear of prejudice.
Thousands of plus-size women felt empowered and inspired by the brand's message. The campaign reached 30 million people, tracking 18.6 million views and two million engagements. The video received a 23% view rate. Celebrities such as Ashton Kutcher and Melissa McCarthy shared the campaign, and it received coverage by Canadian and international media such as Cosmopolitan, People and Chatelaine. Penningtons' yoga brand, ActiveWear, saw its entire new collection sell out in less than a week.
Credits
Advertiser: Penningtons
Agency: lg2
Strategic planning: Anne-Marie Leclair
Social and digital strategy : Sabrina Côté
CD: François Sauvé

Bronze – Milk West's snackable content

Milk consumption declines heavily with teens age 13 to 17. Milk West and DDB Canada needed to convince teens to drink an extra half-glass of milk per month in order to positively impact milk's declining consumption rate. At the same time, they wanted to improve the perception of milk among young people.

Advertising to teenagers can be tricky. They spend more time consuming content online than any other media, and they hate being forced to watch ads. This meant Milk West's approach needed to be less disruptive than traditional marketing.

The team researched the types of websites, content and humour that appeals to teens. Instead of forcing them to watch an ad about milk, the organization created a branded content series that they would want to watch while relaxing after school – while also reminding them how milk pairs well with their favourite snacks.

"Snack Time" features a carton of milk named Carlton and friends who all happen to be snacks that taste great with milk. Every two weeks, starting in March 2015, Milk West introduced a new "Snack Time" episode on YouTube, as well as Tumblr content like animated GIFs and static cartoons.

The series was unbranded to engage with teens on their terms. DDB pushed it through promoted YouTube videos and YouTube skippable pre-­roll.

The team also ran special episodes in theatres during the three biggest teen films of the year – Avengers, Jurassic World and Star Wars – creating 20,000 Carlton-­shaped USBs with additional content to hand out to teen movie-­goers.

By the end of March 2016, Milk West had built an online community of over 25,000 YouTube subscribers and 8,000 Tumblr followers. It's also tracked more than 11 million episode views and over 7.4 million Tumblr impressions.

Carlton delivered. The "Snack Time" audience reported consuming 13 servings of milk per week, versus 10.6 for teens not watching the series.

Credits

Advertiser: Milk West
Agency: DDB Canada
CCO: Cosmo Campbell
ECD: Dean Lee
AD/Illustrator: John Larigakis
Copywriter: Neil Shapiro
Strategist: Rob Newell