Strategy Awards 2016 shortlists: Part Six
We're rolling out all the contenders leading up tonight's gala. Today, we feature the final Challenger Strategy category.

As the inaugural Strategy Awards approach, we're showing some of the shortlisted work by category. The awards will be handed out Nov. 8 as part of our Agency of the Year gala in Toronto. And in case you missed them, check out Part 1 (Turnaround Strategy), Part 2 (Connection Strategy), Part 3 (Cause/Public Service), Part 4 (Evolution Strategy) and Part 5 (Launch and Niche Strategy) of the shortlist series.
Category: Challenger Strategy
Silver – Tangerine works hard for your money
Since 1997, Tangerine has worked to give Canadians an alternative to the Big 5 banks for its nearly two million clients. However, the direct bank found that there was a large and growing population of "direct-ready" Canadians – people who were already comfortable with online and mobile banking, but who still did business with one of the traditional banks.
Research showed that while existing clients adore the brand, prospective customers lacked familiarity with Tangerine's purpose. They recognized that the brand is innovative and progressive, but also viewed it as somewhat cold and ethereal.
Ultimately, this lack of familiarity with the human side of Tangerine meant that prospects didn't believe the brand's intentions were different from the Big 5′s, even if its products were. So Tangerine worked with John St. to reinforce the purpose behind its offering and to inspire Canadians to view banking in a new light.
Research suggested that most Canadians view banks as identical to one another, creating inertia around switching. Canadians perceive banks as large, profit-­oriented institutions that are in the business of making money. The brand and agency decided to show Canadians that Tangerine is actually in a different business than the traditional Big 5 banks.
The "Hard Work" campaign was created to reframe what people should expect from their bank. It launched in January 2016 with a 60-second anthemic video that showed how hard Canadians work to make a living, before asking viewers whether their bank puts in similar effort on their behalf. An original recording of an Army Marching Cadence track set the backdrop for the hard-working Canadians portrayed on screen. The "Hard Work" anthem was supported on TV, in cinemas, OOH and online.
In just one month following the campaign's launch, Tangerine saw a 3% increase in unaided brand awareness and a 7% increase in overall brand opinion. The bank has seen a 21% increase in new clients since the launch, putting it well ahead of its target.
Credits
Advertiser: Tangerine
Agency: john st.
Chief strategic officer: Brenda Rideout
Executive CDs: Angus Tucker, Stephen Jurisic
CD: Niall Kelly
ACD/AD: Hannah Smit
CW: Jessica Schnurr
Planning director: Jason Last
Strategic planner: Naomi Blackman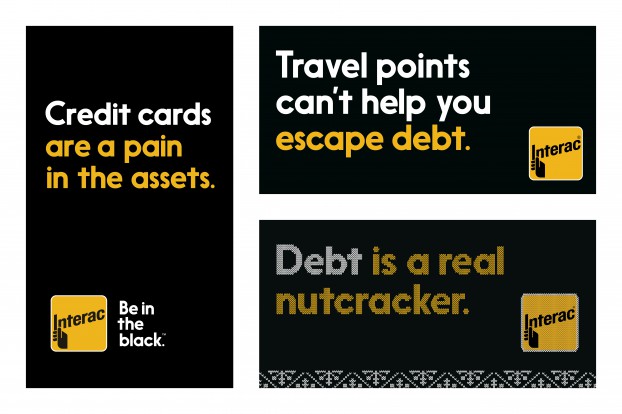 Bronze – Interac gets consumers back in the black

Despite enjoying near universal brand recognition, Interac's share of mind was declining, thanks in part to relentless marketing by Visa, Mastercard and American Express. The credit card companies had convinced Canadians that even paying for tiny purchases with a credit card was a good idea. As a result, Canadians racked up a record amount of debt.

Interac needed to fight back and define its role to consumers. The "Be in the Black" brand platform, created by Zulu Alpha Kilo, launched in spring 2014. Its goal was to position the brand as an ally in financial health and to convince Canadians to pay with Interac Debit instead of racking up debt on credit.

During the holiday period, Interac partnered with retailers such as Cineplex, Pizza Nova and Tim Horton's to stop eager shoppers in their payment tracks. The programs were designed to trump the delayed gratification of credit card rewards with the instant gratification of gifts with purchase. For example, consumers received a free donut at Timmies if they paid with their Interac debit card.

The brand surrounded retailers with outdoor boards that included headlines such as, "Credit cards are a pain in the assets," "Don't borrow from tomorrow" and "Travel points can't help you escape debt."

Interac also provided tools to help people change their behaviour. It takes 21 days to break a habit, so the brand teamed up with financial reality TV star Gail Vaz-­Oxlade to create "The Interac 21-­Day Challenge" – a video series to help Canadians wean themselves off credit card addiction.

And finally, to help Canadians avoid the January blues after a huge post-­holiday bill, Zulu Alpha Kilo created the "Have A Merry January" holiday campaign, which also included OOH, print and digital executions with headlines like "Debt is a real nutcracker" and "You're a foul one, Mr. Debt."

Awareness increased by 50% from pre-­launch levels and 9% over the previous year. Interac maintained a top-­of-­mind leadership position in spite of being grossly outspent, with a score of 63%, eclipsing its main competitors Visa (57%), Mastercard (52%) and AMEX (49%).

What's more, Interac achieved a 5.47% lift in transactions over the previous year.

Credits

Advertiser: Interac
Agency: Zulu Alpha Kilo
Strategy team: Emma Brooks, Ebrahim El Kalza
CCO: Zak Mroueh
ECD: Ron Smrczek
CD: Jon Webber
ADs: Noel Fenn, Allan Mah, Shawn James, Jonathan Armstrong, Andrea Romanelli, Fiorella Martinez
CWs: Andrew Caie, Sean Atkinson, Jon Taylor, Ron MacDonald, Gabrielle Elliot, Samantha Angus, Evan Wallis, Jacob Pacey