Tourisme Montreal apologizes in advance
The city's tourism board is driving awareness for its 375th birthday celebrations by warning Torontonians about the noise.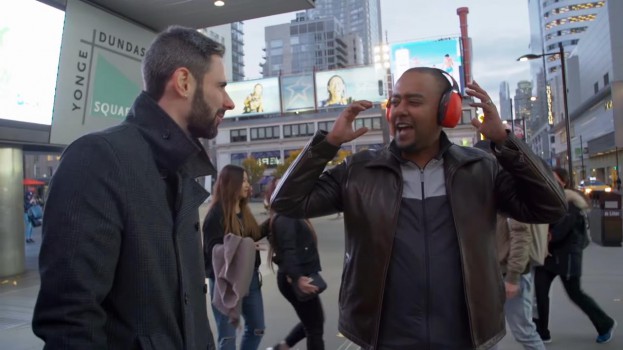 Montreal is preparing to celebrate its 375th birthday in 2017, so the city's tourism board is trying to be a good neighbour by giving other cities a heads up about the big party they have coming up – and invite them to stop by themselves.

In a digital video leading the campaign, three Montrealers visit Toronto to apologize in advance for the noise their upcoming year-long birthday party is going to make. Like the good neighbours they strive to be, they bring along hearing protection and free airfare to Montreal so Torontonians can stop by and enjoy the festivities themselves.

Ontario is a key market for Tourisme Montreal and it has brought smaller, yet similar activations to other cities in the province. For example, in Ottawa, which is celebrating its 150th birthday next year, representatives from Tourisme Montreal handed out earplugs as a way to say the party in Montreal is going to be bigger and louder and people from Ottawa should come visit after their party is done. The campaign will be extended to New York, another of Montreal's key tourism markets, in 2017 with a video featuring William Shatner – who was born and raised in Montreal – apologizing for the noise his hometown will be making and encouraging them to come visit. Touche! is handling media for the campaign, which also includes OOH in key markets.

"Traditionally, we target people during March or April to get them to visit during the summer," says Francois Poulin, director of communications and interactive media at Tourisme Montreal. "But we know Montreal is going to be busy year-round in 2017, so we wanted to talk about that right at the beginning of the year so people know that it's going on, because many people in our key markets don't know. When there's a lot going on, we have to tell everyone about about it earlier."

Tourisme Montreal will be releasing creative focused on specific events throughout 2017, but Poulin says the main goal at the outset was to drive awareness for the 375th anniversary as a whole. Past advertising from Tourisme Montreal has been focused on specific events and festivals to encourage visits during particular seasons, or using more artistic creative to make the image of the city more appealing to millennial travellers. Poulin says a broader, more tongue-in-cheek approach was more appropriate to promote an occasion like the anniversary.

"We wanted to make it a loud but simple message to drive awareness for the celebration specifically, instead of building the image of Montreal," Poulin says. "The way we're thinking about it is instead of focusing on different moments at different times of year, we have one, year-long moment people should be excited about. There's much more activities in Montreal than usual because of the anniversary, and even the traditional festivals are going to be bigger and louder because of it."

In November, Lg2 also worked on a campaign for the City of Montreal that was focused more on getting its own residents and others in Quebec excited for the upcoming milestone by connecting them with some iconic moments in the city's history.