SoFresh embraces its Canuck roots
A new campaign from the dairy alternative brand shows how it makes its U.S.-grown ingredients more Canadian.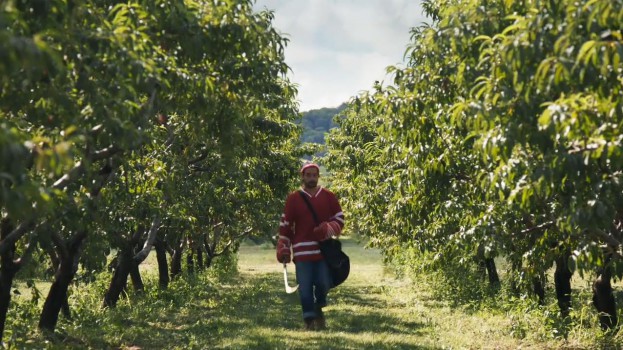 SoFresh, owned by British Columbia-based Earth's Own Food Company, prides itself on being a Canadian brand, but there is still one thing about it that isn't Canadian: the nuts it uses in its dairy alternative beverages, which are grown in the warm climates of California.

In a new video created by ad agency 123w, viewers get a peak at the farm in Modesto where the nuts are grown and harvested, revealing that even though the nuts aren't Canadian, the company does everything it can to prepare them for their trip up north. The nuts are picked by guys in plaid and hockey gear, transported by zamboni and sorted by people wearing Mountie hats and dressed in a Don Cherry-style suit.

The 60-second video, as well as four 15-second cuts, will be running on digital platforms across Canada.

Milk and dairy alternatives have been an increasingly competitive space in recent years, particularly among health- and wellness-conscious Canadians. Rex Sheehy, president at Earth's Own Food Company, says the company had spoke to consumers and retail partners about SoFresh's benefits on that front before, but it was when it began talking to them about its Canadian roots that it found a way to differentiate the brand.

"The interest in health and wellness is a driving insight in a lot of food categories these days, " Sheehy says. "But they hadn't even considered who was making these products and where they came from. As we started talking about that, especially in comparison to our U.S.-based competitors, it made them realize it and it was a moment where they connected with something different about the brand."

Sheehy says that buying local products is an appealing factor to many of the same consumers who are becoming more health-conscious in their purchase behaviour, as well as those who want to support their local economies.

"The ad is up front about the fact that most of the almonds in the world come from California, and there's no way around it," he says. "But our business is still based here, and that's something we can celebrate. That's why we wanted to talk about that in a way that makes people smile."

Sheehy adds that the digital-first approach is a way to drive more of a connection with younger consumers in the category, which it has already been attempting to do on the product side by launching smaller-package formats better suited to smaller and single-person households.