Johnsonville serves holiday breakfast
The sausage brand continues its social push with recipe content for the most important meal of the day.
Johnsonville is spending this holiday season helping Canadians step up their family breakfasts.
Using the Facebook Canvas ad format, a spread of breakfast dishes is displayed across a festive looking table. Users who stumble across the photo on mobile can tap on individual dishes to be taken to the Johnsonville website and find the full recipe in order to create the dish themselves. Johnsonville worked with Matchstick on the campaign.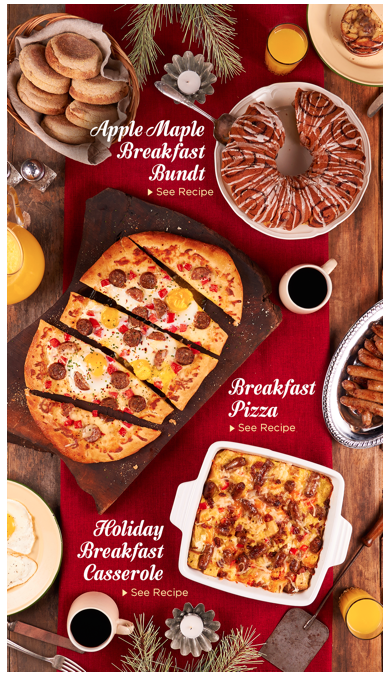 "We know families spend a bit more time together during the holidays, between breaks from work and school and all the holiday meals themselves," says Jackie Hendricks, associate brand manager for international markets at Johnsonville. "They also have more time to create more substantial meals than [on] your typical weekday. [Breakfast is] a place we think Johnsonville can really own, because sausages and eggs in the morning is already such a nice complement at breakfast."

Johnsonville has been focusing on building its social following within Canada over the last two years, primarily on Facebook, with recipe videos and content from influencers like chef Mark McEwan. Facebook has become an increasingly popular platform for sharing recipe content, especially in video form. Despite being a still photo, the Canvas format still maintained Johnsonville's approach to recipe content on social, which was to use beautiful camera work to show off ambitious recipes and create cravings amoung consumers. Patrick Thornburn, co-founder of  Matchstick, added the format gives consumers a greater ability to engage with a visually appealing holiday-themed portrait.

"Beautiful still photography creative on the Canvas unit presents the traditional holiday breakfast table in a way that lends control to our audience," Thornburn said in an email. "Separately, we have published a large catalogue of social first videos for Johnsonville that deliver step-by-step instructions for individual recipes."

Hendricks adds that turning to a mobile-focused, still photo is part of Johnsonville testing different tactics around recipe content to not only see what formats and targeting methods work best, but the kinds of recipes consumers will engage with.

"If you are a foodie consumer, Facebook has become such a huge destination, and we've compiled a lot of learnings about over what recipes work well with them" she says. "You want to create some content that people want to pay attention to, and we found a good formula through delicious, craveable, ambitious food videography. We say it's the kind of thing that makes you want to like your screen, because cravings can often drive what you buy at the grocery store the next time you're there."

Hendricks says the holiday campaign is also something of a tease for the brand's plans for the new year. In 2017, a multi-platform campaign focusing on breakfast occasions will launch across TV, print and digital channels to coincide with the launch of a handful of product innovations in the breakfast category. The brand will also take its recipe videos to Instagram when it launches an account on the platform.